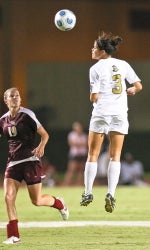 The Knights will face UW-Milwaukee Friday in Madison, Wis. with the winner to battle either host Wisconsin or Arizona State in the second round.
This marks the 14th trip to the NCAA Tournament for the Knights, which is tied for the 15th most in the country. It also is the third-straight season they made it to the dance, and the fourth-consecutive at-large bid to the postseason (2004, 2007, 2008, 2009).
The Knights have certainly drawn a tough opening-round opponent. Milwaukee (12-5-3) has won 10-straight contests, including a 4-0 win over Valparaiso to claim the Horizon League crown. And all four of those goals were scored by Sarah Hagen, who leads the country in goals with 24.
Game time for the Knights' meeting with the Panthers will be announced soon.
UCF has never defeated Milwaukee, going 0-3-0 vs. the Panthers. The Knights, meanwhile, are 0-1-0 against Arizona State and 1-2-1 vs. Wisconsin.