Nahla Turner, a goalkeeper for UCF's women's soccer team, played in only one game during her senior season. She had spent the prior 16 months battling an aggressive form of cancer. That game — the Knight's 2021 season finale — marked Turner's victory over cancer, a return to the soccer field and the start of a new chapter in her life.
"Being back on the field and feeling the support of my teammates and coaches was an indescribable feeling. Those moments meant the world to me," says Turner, who played the entire 90-minute session, had two saves and was recognized as a graduating senior during the pre-game senior-night ceremony. "We learn a lot about ourselves when we are forced to overcome life's circumstances. Through all that I've experienced in the last year, I've found strength that I never knew I had. I've found a sense of peace that I value more than anything."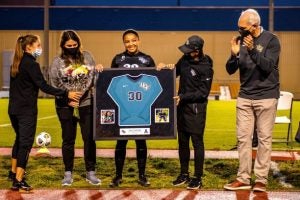 A native of Frisco, Texas, Turner will be earning a Bachelor of Science degree in psychology during UCF's Summer 2021 Commencement. Now in cancer remission, she is leaving the university with an optimistic resolve toward realizing her dream of playing soccer professionally and eventually becoming a success in the business world.
Recently, Turner signed with a sports management agency and plans to try out for international soccer clubs in Europe this fall. A soccer player since 6, she says the sport speaks to her love for team unity as well as her naturally physical and competitive nature. Prior to coming to UCF in 2019, Turner was a two-year member of the Women's Premier Soccer League and toured with the Puerto Rican Women's National Team in 2017.
At UCF, Turner has earned the reputation for being a gritty competitor. Tiffany Roberts Sahaydak, the head coach of the women's soccer team, believes Turner has all that it takes to succeed in both athletics and her professional endeavors.
"Nahla Turner is a true story of perseverance, and it has been a personal pleasure coaching her and watching her grow as an athlete and a person." — Tiffany Roberts-Sahaydak, UCF women's soccer coach
"Nahla Turner is a true story of perseverance, and it has been a personal pleasure coaching her and watching her grow as an athlete and a person. From the beginning of her ordeal, she was laser focused on beating cancer and coming back to the soccer field better than ever," says Roberts Sahaydak, who has been Turner's coach since she transferred to UCF. "When I look at all that she has overcome in the last year, I have no doubts that this young woman is destined for greatness in anything that she puts her mind to."
Turner was diagnosed with non-Hodgkins lymphoma on Jan. 9, 2020 — although her battle with cancer began five months prior. Turner recalls a nagging, acute pain in her left hip first started in July 2019. Believing that she had simply landed awkwardly on her hip during practice, she waived off the pain as a minor injury.
Yet, the pain persisted. By the end of the fall semester, it had evolved into a debilitating ailment, leaving Turner unable to walk without the assistance of crutches. During winter break, she took a biopsy that eventually led to her cancer diagnosis.
"At first, I was in disbelief. I actually laughed because I thought they had made a mistake," says Turner, who received her diagnosis while she was in the Women's Soccer training facility surrounded my well-wishers. "Then, when the reality of the situation finally set in, I just lost it — screaming, crying and wondering why all of this was happening to me?"
Following her diagnosis, Turner endured through eight months of chemo and proton therapy treatments. During her treatment period, she says much of her time was spent in self-reflection, examining how she views life and her career trajectory after soccer.
"I take nothing for granted now. I know now that the only thing certain in life is death, and you always have to go through life like tomorrow might be your last day."— Nahla Turner, UCF student-athlete
The daughter of a software-sales executive and a human resources professional, Turner aspires to a career in entrepreneurship once she retires from professional sports. She has interests in everything from fashion design to sports management and looks forward to exploring all of those options as she endeavors through her athletics career. For now, her primary focus is on soccer and she approaches the sport with a greater appreciation for what it means in her life.
"This stage in my life has given me a chance to discover who I am as a person, and I do feel that there's a difference between who I was then and who I am now," she says. "Now, I am grateful for everyday that I have and each thing that I have earned in this world. I take nothing for granted now. I know now that the only thing certain in life is death, and you always have to go through life like tomorrow might be your last day."