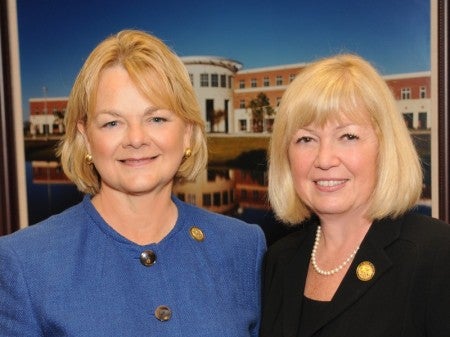 Susan K. Chase has been appointed associate dean for graduate affairs at the University of Central Florida's College of Nursing.
Chase will assume her new role Jan. 1, replacing Jean Kijek, who was the college's first associate dean for graduate affairs. Kijek will return to the UCF nursing faculty to devote her efforts to teaching.
Chase, whose academic nursing career spans more than 30 years, came to UCF in August 2009 as a professor in the College of Nursing's graduate program. Previously, she was a professor and assistant dean for graduate studies at Florida Atlantic University's Christine E. Lynn College of Nursing in Boca Raton, Fla.
"Dr. Susan Chase's extensive experience in nursing education, administration, research, practice and community service makes her an excellent role model and leader in nursing," said Jean Leuner, dean of the UCF College of Nursing.
Chase earned a Doctor of Education at Harvard University, and a Master of Arts degree in Nursing with a concentration in biophysical pathology at New York University. She has a Bachelor of Arts degree in chemistry from Vanderbilt University, and a Bachelor of Science degree in Nursing from Columbia University. She is board certified as a family nurse practitioner and as an advanced registered nurse practitioner.
Chase's area of research expertise includes decision-making by nurses, nurse practitioners, patients and families. She has also developed models for faith-based community nursing. Her research findings have been published in more than 25 peer-reviewed journals and 19 books. She is the author of the nursing textbook, "Clinical Judgment and Communication in Nurse Practitioner Practice," published by F.A. Davis in 2004.
Her many honors include Boston College's Faculty Distinguished Service Award and the Yvonne Munn Nursing Research Award from Massachusetts General Hospital Department of Nursing. She was also named a Distinguished Practitioner of National Academies of Practice, and was selected as an Academic Leadership Fellow by the American Association of Colleges of Nursing. Chase has also been recognized in the Who's Who in American Nursing as well as Who's Who in American Education, and was nominated as the distinguished teacher of the year in 2006 at Florida Atlantic University.