"As a young high school girl growing up in my native Nigeria, I always aspired to achieve the highest education degree with the intention to engage in inquiry, discovery and development of innovation to make the world a better place," says Eunice Oladepe Ojo '21DNP, a UCF College of Nursing student and alum.
Ojo returned to UCF this fall to pursue the nursing Ph.D. program to further her research on fall prevention in older adults.
Falls are the leading cause of injury-related death in adults over 65 in the U.S. — and the rate continues to rise. September is Fall Prevention Awareness Month.
In the nurse executive doctor of nursing practice (DNP) program at UCF's College of Nursing, Ojo completed a scholarly project on fall prevention that she says increased her confidence as a nurse leader and young researcher.
"I believe that falls are preventable and there is a need to determine a fall prevention program that is feasible to nursing staff since they are critical to its successful delivery and the achievement of its outcomes," says. "Even though I have obtained a DNP, I believe I could make more of an impact by obtaining a Ph.D. in nursing."
Solving a Major Healthcare Challenge
Her research seeks to address one of the major challenges not only facing older adults, but facing healthcare systems. Each year in the U.S., it is estimated between 700,000 and 1,000,000 people fall in the hospital, according to the Agency for Healthcare Research and Quality.
"Through a purposeful fall prevention program, healthcare facilities could avoid unnecessary healthcare cost due to complications from falls and improve patients' quality of life," she says.
Ojo has already published research on the topic, and presented her research at the 2021 National Hartford Center of Gerontological Nursing and the International Nursing Research Congress in Edinburgh, Scotland, in July.
At UCF, Ojo has found a mentor in renowned aging and fall prevention expert and Associate Professor Ladda Thiamwong. She is working with her to address fall prevention in ethnically diverse older adults.
"She has a potential to be an outstanding nursing faculty and nurse scientist who can advance minority health, aging care and enhance diversity in the nursing workforce and healthcare system," Thiamwong says.
Addressing a Faculty Shortage
Fall prevention isn't the only national healthcare issue Ojo is addressing. With her nursing Ph.D., she will help fill a critical national need for more nursing faculty members to educate future generations and address the national nursing shortage.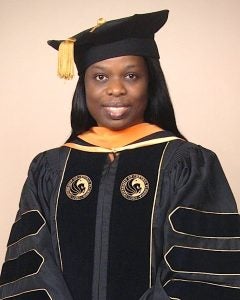 "I have a strong desire to perform effectively as a member of nursing faculty and a nurse researcher who will mentor nursing students, support innovation, and undertake research challenges to improve the nursing workforce," says Ojo. "I also believe my teaching and research experience would encourage future nurses especially minority nurses who are currently underrepresented in the nursing workforce."
In July 2022, Ojo was awarded the McKnight Doctoral Fellowship. The program addresses the current underrepresentation of African American and Hispanic faculty in colleges and universities in the State of Florida by increasing the number of African American and Hispanic Ph.D. graduates.
"I feel highly honored and grateful to receive this award, and I am determined to focus on fulfilling its purpose," says Ojo. "The award will allow me to focus fully on my research and studies, and it will provide me with great opportunities to support my academic and professional growth."
Inspiring Future Minority Nurses
When then high school physics teacher Ojo delivered her first child in Nigeria after a prolonged labor, she was inspired to pursue a career in nursing — an opportunity she found and embraced in the U.S. through the American Visa Lottery.
In the U.S. and now at UCF, she has seized opportunities to achieve her aspirations to not only make the world a better place, but a healthier one for all.
She began her clinical career on medical-surgical and cardiac intervention units, earning cardiac-vascular nursing and progressive care nursing certifications. Her pursuit of knowledge continued after she earned a master's in nursing degree from another institution and returned to the role of an educator — but this time to nursing staff.
"I enjoy teaching and mentoring nurses, and using nursing research to make a great impact on patients' outcomes," she says.
Thanks to the support of the McKnight Doctoral Fellowship, Ojo will no doubt reach her aspirations as researcher and nursing faculty member — and make this world a better place.
Research Participants Needed: If you are 60 years and older and live in Central Florida, UCF is currently recruiting research participants to assess their fall risk to help develop a safe and effective physical activity intervention in ethnically diverse older adults. If you're interested in participating, click here to learn more.