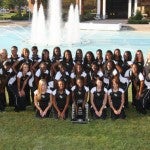 With sprinters breaking school records and personal marks almost on a weekly basis and the UCF women's track & field team having risen to No. 8 in last week's national polls, coach Caryl Smith Gilbert has reminded her team that there's a direct correlation between the work put in during the offseason and the success now on the track.
Back in the steamy summer/early fall, when temperatures still hovered above 90 degrees and humidity levels were at their most suffocating, Smith Gilbert found a new obstacle to challenge her team. The Knights had just won the Conference USA crown back in the spring, but clearly Smith Gilbert knew more was possible from UCF's steadily blossoming track team.
So she found some of the roughest terrain in Central Florida – the gullies and orange groves northwest of Orlando – for some exhausting endurance training that she thought would help take her team to the next level.
"We were running the stadium steps, but we weren't getting the same kind of lactic acid accumulation, so somebody told me about the orange groves," Smith Gilbert remembered. "We'd leave at 5:30 in the morning, we're there by 6:30 and we're done by 8 so that they can get to class by 9. … It was pretty brutal.
"But I'm very proud of them because they have worked so hard, but I want them to connect the dots now. I want them to connect the hard work to the performance," Smith Gilbert continued. "Connect the sacrifice to the outcome. Look past being nervous at a meet and remember running on those orange groves in Clermont at 5:30 in the morning. I want them to see that sacrifice, remember it and connect back to it when they are on the starting line."
UCF's hard work has paid off this season with several school and personal marks falling as the Knights head into this weekend's Conference USA Indoor Championships in Houston. Because of their overflowing wealth of talent among their sprinters and hurdlers, UCF is a favorite to win the league title..
It's the perfect preparation for the Nationals in two weeks, and Smith Gilbert sees her squad being capable of making some major noise on a national scale. UCF cracked the U.S. Track and Field and Cross Country Coaches Association poll for the first time this season and following strong showings in meets in Arkansas and North Carolina, the Knights have since climbed to No. 8 in the country.
Smith Gilbert, a hard-driving coach who is constantly pushing her athletes and demanding more, said it's the final rankings that will prove the true growth of a program clearly on the rise.
"The Nationals are in two weeks at Texas A&M and that's where you score points to get your REAL final ranking. All of this other stuff is just fluff. How many points are you going to score in the heat of the moment?" Smith Gilbert said. "We have some positive momentum now. I'm a big believer in momentum and you have to capitalize on momentum. You win conference and then you get recruits; you get recruits and then you win conference. You win conference and then you can win Nationals. Recruits start believing they are great and other recruits want to come and be a part of that, so momentum is a big part of it."
The Knights are surging with momentum because of the likes of junior Jackie Coward, who started living up to her massive potential out of high school by recently breaking the school record in the 60-meter hurdles and having tied for the best time in that event heading into the Nationals. Senior Champelle Brown recently broke the school record in the 400-meters and Dominique Booker recently broke her own school and freshman records in the 60 meters with an automatic NCAA qualifying time.
UCF's 4×400-meter relay team also set a new school record that ranks as the sixth-best time in the country this year. Senior Micaela Wimberly, junior Shelia Paul, sophomore Sonnisha Williams and junior sprinter Ashley Bolling have provided some much needed depth, while Tennessee transfer Lynne Layne is loaded with potential.
"We're excited about the ranking and it shows a lot of the hard work that the staff has done and the hard work that the athletes have put in," Smith Gilbert said. "It lends a hand to our recruiting efforts and those recruiting efforts also have raised the level of athletes that we have. Those athletes have started showing up. Shelia Paul and Sonnisha Williams, they started really showing up when the new recruits came in and it really just raised our level. My bottom half is what my top half used to be."
Maybe the truest sign that the word is getting out nationally as to the power of the UCF program is the Knights landing a National Letter of Intent signing from sprinter Octavious Freeman of Lake Wales. Freeman, a seven-time state champ in Florida, won the 100 and 200-meter championships at the prestigious Nike Outdoor Nationals last summer.
Smith challenged Freeman to come to UCF and be a part of a program on the rise, and the potential future Olympian accepted it. It's just further proof that UCF should soon become a national powerhouse in track & field.
"I told her it was up to her to either go somewhere where the tradition is already set and fall into the fold or come here and help us build something," Smith Gilbert said of her recruitment of Freeman. "Some day she would be able to tell her children and grandchildren that she started this here at UCF and we could mold it how we wanted it molded. I told her how she could set the bar high for other people and then look back and watch it grow.
"My kind of kids – the ones I gravitate toward and the ones who gravitate toward me – are leaders," Smith Gilbert continued. "I'm pretty tough on them and strict on them. You have to be able to step outside of what you think to make it in this environment because I demand a lot. I demand you be a good person and accountable and somebody who uses their own mind. If you have your own mind and want to step out on a limb and be successful, then you'll come here and compete for us."
John Denton's Knights Insider appears on UCFathletics.com several times a week. E-mail John at jdenton@athletics.ucf.edu.