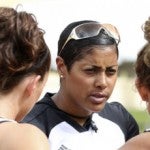 The UCF indoor track & field team cracked the top 10 in the most recent U.S. Track & Field and Cross Country Coaches Association (USTFCCCA) national rankings. After making their first appearance in the top 25 earlier this season, the Knights have moved up to No. 8 following strong showings at the Tyson Invitational in Arkansas and the Dick Taylor Invitational in Chapel Hill, N.C. this past weekend.
UCF dropped from No. 14 to No. 17 in last week's USTFCCCA rankings after not competing last weekend. The Knights' performances in the two meets this past weekend helped them jump up nine spots to No. 8 in the current rankings.
Junior Jackie Coward broke her own school in the 60-meter hurdles and tied the top time in the nation this year with an 8.06 to finish first in the event in Fayetteville Friday night. Freshman Dominique Booker broke her own school and freshman record in the 60 meters with an automatic NCAA Championship qualifying time of 7.24. And senior Champelle Brown broke the school record in the 400 meters with a 54.31 in the 400 meters.
The Knights' 4×400-meter relay team set a new school record as they finished in 3:36.03 Saturday afternoon. That time is the sixth fastest in the country this year behind just teams from Texas A&M, Arkansas, Texas, LSU and TCU.
Oregon remains the top team in the country for the fourth straight week, while LSU moved up one spot to No. 2 and Texas jumped up five places to No. 3. Arkansas, Texas A&M, Tennessee, Florida State, UCF, Oklahoma and BYU round out the top 10.