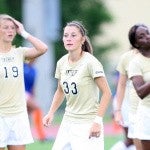 Cameron Cooksey ended a five-game scoring drought with the game-winning goal in overtime to lead the UCF men's soccer team to a 2-1 win at Marshall Sunday afternoon. Cooksey scored twice in the season-opening win against Jacksonville on Sept. 1, but had not found the back of the net since. That streak ended in the 98th minute of action to give the Knights the win in their Conference USA opener. UCF is now 5-2 overall with the conference win, while the Thundering Herd drop to 1-1 in league play and 5-2-2 overall.
"Marshall is an extremely tough place to play and win," head coach Bryan Cunningham said. "I am proud of the team and the way everyone played today. It's tough to give up a goal late in the game, but we kept the pressure on and it paid off with the goal in overtime."
The game remained scoreless through the first half despite UCF's offense converging on goal. Marshall goalkeeper Daniel Withrow turned aside four shots from the Knights in the first 45 minutes to keep UCF off the board.
It took until the 75th minute for the game's first goal to be scored. For the third consecutive game, sophomore Nik Robson found the back of the net for the Knights. His sixth tally of the year came on penalty kick and gave his team a 1-0 lead.
Marshall would not let that lead stand for long, scoring nearly six minutes later to tie the game at 1-1. Matt Risher headed a freekick from the foot of Withrow into the top left corner of the goal past UCF goalkeeper Shawn Doyle for the equalizer in the 81st minute.
With neither side able to score the winner in the final nine minutes of regulation, the game headed into overtime.
Just over eight minutes into the extra session, senior Yaron Bacher's shot was deflected by Cooksey for the game winner. Cookey got just enough of Bacher's shot to redirect it into the right corner of the goal past Withrow to end the game and give his team the win.
Prior to Sunday, the Knights had yet to play an overtime game in 2010, while Marshall had played in four games that reached extra time, including in each of its last two contests.
The win pushed UCF's record to 3-2 on its five-game road swing. The Knights have not been home since defeating Florida Atlantic, 4-0, on Sept. 6.
"It hasn't been easy being on the road the last three weekends," Cunningham said. "I am proud of the guys for beating a very good and disciplined Marshall team on the road. I hope that a win like this will help us continue to play well as we come back home."
UCF will return home for its next game on Saturday, Oct. 2 when it hosts SMU at 7 p.m.