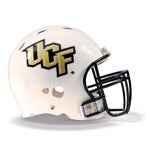 Team Notes
UCF processed and allocated 15,402 tickets for the St. Petersburg Bowl, encompassing a total of four separate blocks of tickets given to the school. The announced attendance Saturday was 29,763, with approximately 20,000 UCF fans in the stands.
For the second time in three years, UCF sold its entire allotment for a bowl game and was part of a record crowd. At the 2007 AutoZone Liberty Bowl, UCF also sold its full allotment of 10,000 tickets, and the game's attendance of 63,816 was a Liberty Bowl record.
The UCF Pregame Tailgate Party staged by the UCF Alumni Association and UCF Athletics was also a sold-out event with 1,000 tickets distributed.
UCF's fourth-best rushing defense in the nation limited Rutgers to just 86 yards on the ground. The Scarlet Knights entered the game averaging 138.4 yards per contest.
UCF committed just five penalties Saturday. It had just 52 penalties in 13 games in 2009 (4.0 average).
With Rutgers' interception return for a touchdown in the second quarter, it was the first UCF allowed since 2007 when current Philadelphia Eagle Quintin Demps of UTEP had one on Nov. 24, 2007.
Individual Notes
Junior Kamar Aiken tied for the game-high with four receptions and had two touchdowns. He was named UCF's Most Outstanding Player of the game. Wide receiver Mohamed Sanu was voted as Rutgers' MOP.
Aiken's two first-half touchdown receptions gave him nine on the year, the most by a UCF receiver since Brandon Marshall (11) and Mike Sims-Walker (9) in 2005.
Aiken's nine TDs moved him into a tie for ninth on the UCF single-season chart.
Sophomore Brynn Harvey had 13 rushing attempts Saturday, capping off 2009 with 261 carries, good for third on UCF's single-season chart.
Senior quarterback Brett Hodges wrapped up the 2009 campaign with two more touchdown passes, giving him 17 on the year, the most since Steven Moffett who had 22 in 2005.
Sophomore quarterback Rob Calabrese entered in the fourth quarter and went 5-for-7 for 45 yards, and also rushed for a 30-yard gain on a third-down conversion, on his first drive. That set up a two-yard touchdown run by freshman Jonathan Davis.
Freshman Quincy McDuffie returned the opening kickoff 65 yards, his second-longest of the season (95 yards vs. Samford Sept. 5). It also marked a St. Petersburg Bowl record.
McDuffie registered 171 kickoff return yards on six returns Saturday, the eighth-most yards in a game by a Knight. He posted 944 return yards this year, just eight yards shy of tying the single-season record (952 by Ted Wilson in 1984).
McDuffie's six kickoff returns tied for the fourth-most in a game, while his 39 returns in 2009 were one short of Wilson's record of 40 in 1984.
Senior Rocky Ross hauled in four receptions for 49 yards. The Jacksonville native ensured himself of posting at least one catch in each of UCF's three bowl games. Ross ended his career with 157 receptions for 1,984 yards.
Kemal Ishmael intercepted his first-career pass in the third quarter. He became the second true freshman (Josh Robinson who has six) to pick off a pass in 2009. Seven of UCF's 12 interceptions came from true freshmen.
Junior Bruce Miller recorded his 13th sack this year, tying for the third most in a single-season in program history. He stands fifth at UCF in career sacks with 27, and will enter 2010 leading the nation in most career sacks.
Final score: UCF 24, Rutgers 45.
Continue reading at UCF Athletics.