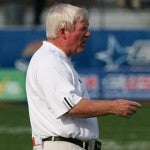 The St. Petersburg Bowl presented what seemed to be a perfect storm for UCF on Saturday night what with 20,000 of its fans packed inside Tropicana Field and a hot football team positioned for the first bowl victory in school history.But an avalanche of errors combined with speedy, physical opponent in Rutgers ruined what could have been a dreamy, feel-good night for UCF's program and its hopeful fanbase.
Down four points late in the second quarter, UCF allowed an interception return to sap its momentum and the Knights could never mount much of a comeback in a disappointing 45-24 loss to Rutgers in the second St. Petersburg Bowl presented by Beef `O' Brady's.
"As I told the players, I'm embarrassed for the football team that we didn't go out and do a better job for the fanbase and for the football program," UCF coach George O'Leary said.
"I thought we beat ourselves a lot in a lot of situations out there," a frustrated O'Leary continued. "Right now, Rutgers defense was just a lot better than our offense and that was the difference in the game."
UCF (8-5) had hoped that the momentum of a strong finish to the regular season, one in which it won the final six conference games and knocked off Marshall, Houston and UAB down the stretch, would carry over to the bowl game. But problems on both sides of the ball sabotaged the Knights' chances of pulling off the upset in this game.
UCF netted just 35 yards on the ground, 33 of them coming in the fourth quarter when the outcome of the game was already decided. And in the passing game, two Brett Hodges' interceptions led to 14 points for Rutgers, bowl winners for a fourth consecutive season. And UCF's defense yielded 380 yards and eight third-down conversions.
Playing before roughly 20,000 Knights fans among the Tropicana Field crowd of 29,763, UCF had hopes of capturing the first bowl victory in school history. In a bowl game for the third time in five years, UCF lost previously in 2005 in the Hawaii Bowl (49-48 OT) and in the 2007 Liberty Bowl (10-3).
"The offense put up 14 points and a field goal early and defensively we played our butts off. We didn't want to go out like this, and this is so disappointing," senior defensive tackle Travis Timmons said. "It's just such a big letdown. We're 0-14 now against Big East teams and 0-3 in bowl games. Torrell (Troup), Bruce (Miller) and myself along the defensive line wanted to change all of that, but unfortunately things didn't go the way we wanted them to."
Rutgers (9-4) played like an experienced team in its fifth consecutive bowl, using big plays on offense and an attacking defense to frustrate the Knights. Rutgers got six sacks and two interceptions defensively and freshman quarterback Tom Savage threw for 294 yards and two TDs.
Said Rutgers coach Greg Schiano: "We've been to five straight bowls with four straight wins in bowl games. You have to be consistent before you can be great. We'll be great someday."
The most devastating play of the night came just before the half when Hodges, the quarterback who O'Leary called the unquestioned MVP of the season, erred on a short route to A.J. Guyton. His pass was picked off by cornerback Billy Anderson and returned 19 yards for a score that put Rutgers up 28-17 at the half.
"That play really hurt us. A.J. and I had a miscommunication and he did the right thing and I was wrong," said Hodges, who passed for 175 yards and two scores to Kamar Aiken. "Then, they started really bringing the pressure and made it tough on us."
UCF had been fairly good all season when trailing at the half, going 4-4 in those eight games. But on this night there would be no comeback because of the Knights' inability to run the ball or get defensive stops on third down.
Any chance UCF had of rallying back for the victory ended late in the third quarter when Jonathan Davis was stopped short on a fourth-and-1 run near midfield. After that carry, UCF stood at minus-one yard rushing on its first 19 carries.
UCF tailback Brynn Harvey hoped to have a big game playing near his hometown of Largo. However, the sophomore back, who ran for 1,077 yards and 14 touchdowns on the season, was bottled up all night by a physical Rutgers' defense that ranked 20th in the nation against the run. He finished with just 32 yards on 13 carries and no run was longer than nine yards.
"It was just really frustrating not being able to run the ball and seeing our quarterback get hit a lot in the game," Harvey said. "And it's disappointing because I had a lot of friends and family at the game and I feel like I let all of them down.
Aiken caught his eighth and ninth touchdowns of the season and was named UCF's Most Outstanding Player for the Game. Multi-purpose back-wide out Mohamed Sanu was voted Rutgers' Most Outstanding Player.
Rutgers led the nation in turnover margin this season (plus-20), and it showed why in the first half by picking off two Hodges' passes and converting both of them into touchdowns. Those 14 points proved to be the difference early on as Rutgers led 28-17 at the half.
UCF started the game with loads of momentum, getting an electrifying 65-yard kickoff return from freshman Quincy McDuffie. But the promise of that start ended when Rutgers' linebacker Damaso Munoz intercepted a Hodges' pass and returned it to the 46-yard line. Eight plays later, the Scarlett Knights were in the end zone and led 7-0.
UCF caught a big break via a turnover when A.J. Bouye recovered a Sanu fumble at the 9-yard line. This time, Hodges hit Kamar Aiken on a slant pass for a 7-yard score.
Again, any momentum UCF had was snatched away by Rutgers. Tim Brown, a Miami speedster, took a short pass 65 yards for a score that put Rutgers back up 14-7.
'`The whole first half we didn't make plays and that just came back to really haunt us," UCF defensive end Bruce Miller said. "We just have to learn to fight harder in those situations and get off the field on third down."
After the two teams traded scores, UCF clawed back to within 21-17 when Hodges again hit Aiken in the corner of the end zone for a score.
And the Knights got a stop on the following possession, giving them the ball back at the 13-yard line with 1:46 remaining in the half. But disaster struck again when Hodges' hurried throw was snagged by Rutgers' cornerback Billy Anderson and returned 19 yards for a score that put the Scarlett Knights up 11 points at the half.
"You can't give a team 14 points and that's what we did in the first half," O'Leary said. "We threw a pick on the 11 and then that one for seven (points). You can't do that and overcome it. And then in the second half I don't think our offense did anything at all except lose ground. That was very disappointing. And defensively we were just on the field too long."
John Denton's Knights Insider appears on UCFAthletics.com several times a week. E-mail John at jdenton@athletics.ucf.edu.