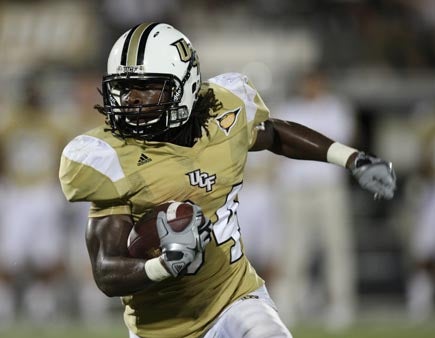 Senior Bruce Miller (Canton, Ga.) was named Preseason All-American and was also one of eight UCF football players named to Phil Steele's recently-unveiled Preseason All-Conference USA team.
On a conference level, Miller is joined on Phil Steele's All-Conference USA first team by offensive lineman Jah Reid (Haines City, Fla.), cornerback Josh Robinson (Sunrise, Fla.) and linebacker Lawrence Young (Pensacola, Fla.). Linebacker Derrick Hallman (Fort Pierce, Fla.) was a second-team selection along with tailback Brynn Harvey (Largo, Fla.). UCF wide receiver Kamar Aiken (Miami, Fla.) and tight end Adam Nissley (Cumming, Ga.) were both named to the All-Conference USA Preseason Fourth Team in the magazine which will hit the newsstands in June.
The eight are amongst the 17 starters which the Knights return from last year's St. Petersburg Bowl participating squad. UCF placed second in Conference USA's East Division in 2009.