UCF Provost Elizabeth A. Dooley today named DeLaine Priest as associate vice provost for Student Success and Advising to provide a more coordinated approach for advising and promoting student success at UCF.
The appointment of Priest is part of Dooley's Academic Alignment for Student Success initiative to take effect in January. The initiative seeks to better align UCF's academic infrastructure and support elements to be more strategic, focused and impactful in advancing student success.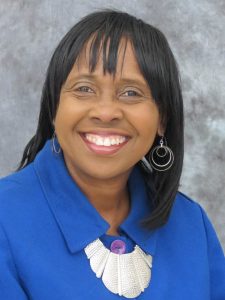 Priest moves from the Division of Student Development and Enrollment Services, where she serves as the associate vice president for Student Success. In her new role, she joins the Division of Teaching and Learning, which on Jan. 2 will become the Division of Student Learning and Academic Success. At that time, Priest will report to Theodorea Regina Berry, UCFs newly named vice provost for the Division of Student Learning and Academic Success and dean of the College of Undergraduate Studies.
Aside from Priest, the renamed division that Berry will lead includes several units relocated from SDES as part of Dooley's realignment. The units are First Year Advising and Exploration, Transfer and Transition Services, Student Success, the Student Academic Resource Center, and the Registrar's Office.
In her new division, Priest will establish an Academic Student Success and Advising unit to bolster advising and student progression to a degree. The unit will encompass First Year Advising and Exploration, Transfer and Transition Services, Student Success, and Pre-Health and Pre-Law Advising. She will work with colleges, deans and other unit leaders to provide a more centrally coordinated approach to advising throughout the university, helping UCF better leverage resources and support elements to enhance student success.
Priest will also work with academic leaders, faculty and campus stakeholders to build on gains in student retention and graduation rates. In addition, she will help UCF realize the objectives of the Collective Impact Strategic Plan by working to elevate student results in metrics of retention, graduation and persistence.
Last year, UCF reached a major milestone in surpassing a 90 percent first-year retention rate, which is a key metric for attaining state performance funding. This year, UCF's rate improved to a 91.4 percent. In addition, the national Association of Public and Land-grant Universities recently recognized UCF for remarkable results in retaining and graduating Hispanic and African American students.
With both underrepresented student groups, UCF is defying national trends and significantly outperforming national averages.
"Dr. Priest has excelled at SDES in helping establish UCF as a national pacesetter for keeping students on course to obtaining a life-changing degree," Dooley said. "She is ideally suited to play a broader leadership role as we take bold new steps to advance our momentum and create more ways to advance the academic success of our students."
Priest's appointment furthers a 25-year-career at UCF. Under her leadership, SDES and UCF have received national awards and recognitions for service to students. Those include the NACADA Outstanding Institutional Advising Program, the National College Learning Center Association/Learning Support Centers in Higher Education Website Excellence Award, NASPA Exemplary Program Award, First Year Experience Student Advocacy Award, and the Noel-Levitz Retention Excellence Award.
In addition, Priest is the principal investigator for $8 million in U.S. Department of Education grants that benefit low-income and first-generation students. She currently represents UCF as a board member for the Consortium for Student Retention Data Exchange and will serve as a QEP evaluator for the University of Texas, El Paso, through the Southern Association of Colleges and Schools Commission on Colleges.
Priest obtained her undergraduate degree in business administration and a master's degree in counselor education from the University of Alabama, Birmingham. She received her doctorate in organizational leadership from Nova Southeastern University in Fort Lauderdale.