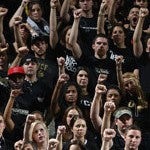 That the UCF men's basketball team is poised to break the school record for attendance is not surprising considering that the Knights have notched some of the program's biggest wins ever this year.
That they are going to most likely break the record on Saturday night against UAB – with four more home games still to follow – is somewhat surprising.
UCF's season has been an up and down one with the Knights winning their first 14 games and losing their past five games, but one constant has been the crowd support that they have gotten at UCF Arena.
With an average home attendance of 6,535 fans at every game, UCF ranks third among Conference USA teams. The Knights have attracted an average of 8,828 fans to three C-USA games, bringing their season total to 78,423 in 12 home games. The school record of 81,161 set last season should fall Saturday night when the Knights try to get back on the winning track against UAB.
"The fans are so important to everything we are hoping to build with this program," UCF coach Donnie Jones said. "We're still developing as a team. The fans have played a big role in our success. We hope they continue to help move us forward."
Five of UCF's top 10 home crowds all-time have come this season, including a nearly packed house of 9,347 fans (third-most all-time) last week against Rice. And the Knights have rewarded that support by going 10-2 at home.
Part of the enormous potential that Jones saw in the UCF program when he took over last spring was the growing fanbase and the love for basketball in Orlando. Jones feels that before long the Knights will have the toughest ticket in town and sellouts will come on a regular basis.
"I think this place has the potential to be one of the most special environments in all of college basketball," Jones said. "It's loud and the fans really get into the games. They can have an impact on the game with the energy and noise."
With games left against UAB (Saturday), Memphis (Wednesday, Feb. 9) and Tulsa (Saturday, Feb. 12) and SMU (Wednesday, March 2), UCF's 10 biggest crowds ever could be chocked full of dates from this season. Only 1,000 tickets remain for the game against Memphis, the Tigers' first visit to Orlando since a school-record crowd of 9,825 watched UCF and Memphis play on Jan. 10, 2009.
Considering how fans have flocked to see the Knights this season, even that record could be in jeopardy.
John Denton's Knights Insider appears on UCFAthletics.com several times a week. E-mail John at jdenton@athletics.ucf.edu.