UCF alumni Brent Barnaky and Steve Anderson, two of the National Basketball Association's 62 referees, credit a course offered through UCF's intramural sports program for giving them a solid foundation in officiating. They remain involved with the program, helping to teach aspiring referees.
Barnaky, who finished his third season in the NBA, has mentored Anderson, a rookie. They have refereed NBA Development League and college basketball games together.
Barnaky, of Clearwater, holds a bachelor's degree in business administration from UCF, as well as a Juris Doctor degree from Nova Southeastern University. He takes on a variety of pro-bono legal cases during the offseason.
Anderson, of Orlando, earned a bachelor's degree in education and a master's degree in higher education from UCF.
When did you know you wanted to become a referee?
Barnaky: The first time I thought about officiating was when I took the UCF officiating course in the late 1990s. Once I realized my high school and college basketball playing days were behind me, I thought I would get into coaching. However, once I took to the basketball floor as an official, I immediately fell in love with the fact that I was still competing, just from a different perspective.
Anderson: I knew during the summer of 2001, when I went to my first basketball officiating camp in Lakeland. I was going to fill in for some games that they needed referees for, and the next thing you know I was signed up for the camp. Other officials and evaluators at the camp were telling me how good I was at such a young age and mentioned how successful I could potentially be if I stuck with it.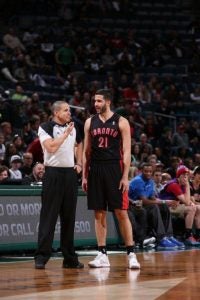 What is the toughest call to make on the court?
Barnaky: Out of bounds. Sometimes the ball gets slightly deflected traveling through the lane area, and it's nearly impossible to see multiple deflections due to the speed of the game.
What is the biggest misunderstanding fans have about referees?
Barnaky: That we don't call traveling violations and that we actually care about the outcome of games. We are sent reams of video footage ingraining us to find the pivot foot first and call illegal violations. When we miss a traveling violation, it is because we are taught to referee the defense and sometimes our peripheral vision isn't wide enough to see the violation. Also, we really don't care about the outcome. We are the gatekeepers responsible for the integrity of game in its entirety, enforcing and interpreting rules, and, ultimately the judge and the jury.
Anderson: A lot of fans don't understand how difficult of a job officiating basketball is. Most fans yell about violations and fouls but don't know the rules and have no clue why we call or don't call certain plays.
Describe your most interesting conversation with a player or coach.
Barnaky: We are not permitted to have off-court interactions with coaches or players without the NBA's permission. That said, I had a funny conversation with (Oklahoma City Coach) Scott Brooks my second year in the league. Near the end of a game that was already decided, he said to me that he thought I officiated a great game but was "writing me up" for my ugly referee shoes. I said, "You haven't heard … I am the first NBA official to have a five-year shoe contract to wear these Reebok Reezigs, it's a six-figure deal." It was a funny, relaxed moment … those don't happen much, as the environment is very tense and stressful.
How did your time at UCF prepare you for your job?
Barnaky: The intramural department and training provided to the officials are top notch at UCF. Had I not been introduced to officiating at UCF, I can confidently say I would not be officiating in the NBA. I understand many intramural departments nationwide have mirrored many of the programs that UCF pioneered.
Anderson: Most of the preparation came from the intramural sports program, and I can thank current Recreation and Wellness Center Director Jim Wilkening for that. He was my first mentor in officiating and also hired me as an intramural sports supervisor. The experiences throughout those seven years with the program were extremely valuable.
What advice do you offer to aspiring officials?
Barnaky: 1. Get a degree. 2. Follow your passion in life. 3. Playing the game will help immensely but is not imperative. I think any official who is successful loves the game he/she officiates first and foremost.
Anderson: Be patient. You are not going to become an NBA referee overnight. My journey to the NBA took 13 years, and it was well worth the wait. It's also important to have a career that will allow you to take time off work to officiate games, sometimes days at a time throughout the months of November thru April.
What was your favorite UCF class?
Barnaky: I really enjoyed the Capstone course in the College of Business. If I had to do it again, I would have also obtained an accounting degree. There are a lot of "crossover" issues that arise in the legal world, and having an accounting background would help my clients and practice.
Anderson: My favorite professor was (former UCF basketball coach) Torchy Clark. His passion and love for coaching basketball made him a professor who taught with that same passion, and there was never a dull moment in class.
Who was your favorite NBA player while growing up?
Anderson: Nick Anderson from the Orlando Magic. Not only did he have the same last name, but also he was a solid three-point shooter and defensive player, and that was the best part of my game as a youth.
What accomplishment are you most proud of?
Barnaky: Getting married to my wife, Tiffany, and my kids. I have a 3-year-old girl, Lilyana, and a 1-year-old boy, Brody.
Anderson: Getting my two degrees from UCF. It is extremely important to have something to fall back on if something were to happen with my career as an NBA referee.
Describe your travel schedule.
Barnaky: Our travel schedule is intoxicating. I am home probably five to seven nights a month on average. When I am home, I am locked in trying to be the best husband and dad I can be. I really try to make up for the missed time during the summer. Thank the good Lord for FaceTime on the iPad. I don't know how our veteran officials were able to "listen" to their kids grow up over the phone lines.
How often do you watch video of your games?
Anderson: I watch video from all of my games and also from games that I am not officiating. One of the main things I look for is did I get the play that I called or did not call correct. If I did not, then I want to check my positioning and angle and see what I could have done differently to get the call or non-call right.
What is your favorite NBA city in which to play tourist?
Barnaky: We don't have much time to tour cities, but since I live in the great state of Florida with beautiful weather, water, and beaches, I enjoy Utah and Colorado. The view of the snow-capped mountains in the winter is breathtaking.
Anderson: I'm going to give New York the edge over LA. We typically stay near Times Square, and there is always plenty to do within walking distance.
What is the funniest moment you have experienced while refereeing?
Barnaky: I officiated two summers in the WNBA. One game actor/singer Will Smith was sitting courtside and giving my crew a hard time throughout the game. We had a ball go out of bounds near his seats. As I bent over to pick up the ball, I looked at him and said, "We may be bad out here, but we aren't nearly as bad as that TV show called the 'Fresh Prince of Bel-Air.'" As play began again, I looked over and he, his wife and friends were laughing uncontrollably.
Anderson: I haven't had a "funny" moment yet in the NBA. However, I recall a game in a pretty quiet gym where I went to report a foul and my voice cracked, making me sound like a 12-year old boy going through puberty. Everyone in the gym heard me and started laughing and making fun of me. I had to laugh as well.