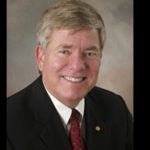 Retirement is a natural occasion that causes you to look in life's rearview mirror and evaluate where the road has taken you. As I look back on my career, the most prominent vision I see is the fortunate decision I made to come to Orlando and the University of Central Florida.
Since 2003, I've watched as UCF has grown from promise to prominence. High on the list of accomplishments is this community's energetic embrace for a new college of medicine.
Unfortunately, my tenure also has been marked by near-constant funding issues for higher education in Florida. I encourage state leaders to invest in our public universities; these investments in education, research and job creation will generate remarkable gains for our state.
Any university's most strategic resource is its people: talented students and staff and faculty members. We must do all we can to continue to attract and retain the brightest and best.
Looking from the rearview mirror into the crystal ball I always longed for, I see a future for this institution as successful as its past. To prepare tomorrow's leaders, UCF has assembled a faculty any provost would be proud of; academic programs that offer rich educational opportunities across the arts and sciences; and a growing local, regional and national reputation that enhances the degrees of nearly 200,000 alumni.
As provost and executive vice president, my job has been to see that we implemented the vision articulated by UCF President John Hitt. Atop his five goals for UCF has always been to "offer the best undergraduate education available in Florida."
There are many objective indications that Orlando's hometown university is doing just that. UCF's enrollment has topped 53,500, and our faculty members continue to earn national recognition for excellence in teaching, advising and research.
Our growth has been fueled by quality students; the fall 2009 freshman class averaged a 1,225 on the SAT and included 55 National Merit Scholars, a total that ranks UCF among the top 50 universities in the nation.
In the future, I expect UCF will sustain programs in its areas of historic strength, such as engineering, business, computer science, the natural sciences and teacher education. However, the university must also have the confidence and nimbleness to explore strategic opportunities in areas as diverse as medicine, the performing arts and more.
Finally, thank you to UCF and the community for the opportunity to be part of the incredible story that continues to unfold here. It has been the most rewarding experience of my career.
Terry Hickey of Orlando is provost and executive vice president at the University of Central Florida. He retires on June 30.
Source: Orlando Sentinel, My Word: Retiring UCF Provost Reflects, by Terry Hickey