Competing against large international corporate software developers at the Serious Play Conference 2011, UCF/IST RETRO Lab landed a Bronze Medal for its Devil's Advocate game submission in the Government/Military category.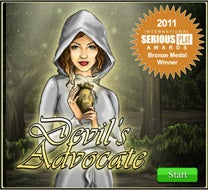 Devil's Advocate is a lightweight, Flash-based mini-game embedded within an interactive learning simulation designed for teaching psychological health skills to military service members at various stages of their deployment. The game deals with anxiety and depression, providing players stress management techniques.
Defense Centers of Excellence for Psychological Health sponsors the project.
Development team members for the project were programmer, Skyler Goodell; artist and production manager, Danielle Chelles; designer and production manager, Lucas Blair; instructional systems architect, Dr. Anya Andrews; and subject matter experts, Dr. Michael Kofler and Dr. Clint Bowers.