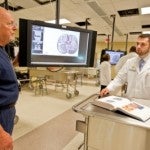 Integrating technology into a "wet" environment like an anatomy or pathology lab presents a unique set of requirements. When the University of Central Florida's (UCF) new College of Medicine needed an integrated monitor and touch screen for its anatomy lab, they turned to Mitsubishi Digital Electronics America and CyberTouch, a global leader in touch-screen monitor integration and manufacturing.
With the opening of its new medical education building on August 2, 2010, the University of Central Florida's College of Medicine's vision is to be the nation's premier 21st century college of medicine—a national leader in education, research and patient care, recognized for supporting and empowering its students and faculty to realize their passion for discovery, healing, health and life, and for its ability to create partnerships to transform medical education and health care.
To that end, UCF called on Mitsubishi Digital Electronics America and CyberTouch to create monitors that provide sharp, brilliant images in difficult environments.
"The Mitsubishi monitors with CyberTouch's touch-screens make a positive and dramatic impact on learning," said Ron Knappenberger, assistant director, educational technology, UCF College of Medicine. "We're the first medical school built from the ground up in the last 30 years, and our environmental focus and our technology proves it."
Knappenberger met with Mitsubishi and CyberTouch to develop a unique integrated LCD monitor with a low environmental impact that could withstand environments such as those created during cadaver dissections.
"Anyone who watches a detective show on TV is familiar with this type of lab," said James Chan, senior marketing director, Mitsubishi Digital Electronics America. "So we created a product that would withstand fluid and other sorts of materials that can be hostile to technology but are so important to students in medicine and scientific research."
CyberTouch's integrated overlay on the Mitsubishi LDT332V LCD monitor looks like a regular digital signage monitor, but the overlay neatly fits inside the bezel, directly on top of the screen. Touch is super-sensitive in spite of the industrial-grade coating that can withstand students' soiled gloved hands.
The professor's station is in the middle of a curved (XX) square-foot laboratory, which has four IP-addressable cameras and a monitor poised over a gurney. During class, the teacher can display exactly what he or she is doing; students can watch demonstrations, track dissection progress, research information on the Internet, take notes, and make annotations on the monitors suspended above their own stations, all in real time.
Source: infoCom.org, University of Central Florida's College of Medicine Students Use Revolutionary Technology in Anatomy Lab