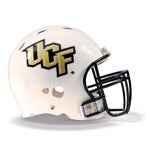 Led by 13 student-athletes with a perfect 4.0, the Knights earned a summer session GPA of 3.118, raising the overall team cumulative GPA to a 2.990. Both of those marks are the second-highest of the O'Leary era in terms of both semester GPA and cumulative GPA, trailing only the high-water marks of the 2007 summer session.
In addition, seven Knights (Michael Greco, T.J. Harnden, Brett Hodges, Cory Hogue, Jordan Richards Rocky Ross and Alex Thompson) have all ready received their bachelor's degrees and are working on either a second bachelor's degree or a master's degree.
A total of 69 UCF student-athletes will be wearing a "Scholar-Baller" sticker on the backs of their helmets this fall emblematic of having earned a 3.0 semester GPA or better during the 2008-09 academic year.
Hope is bright for this continued success in the future. UCF's current freshman class had a combined GPA of 3.385 for their first summer at UCF.