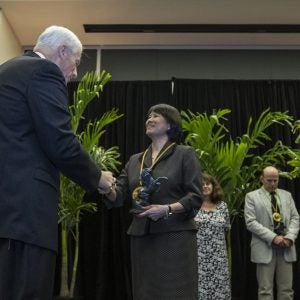 Five University of Central Florida scientists and an internationally renowned musician were recognized as Pegasus Professors today, during the annual Founders' Day ceremony in the Student Union.
The award is the most prestigious a faculty member can receive at UCF. The honor recognizes extraordinary contributions to the UCF community through teaching, research and service. Each recipient received a statue of the UCF Pegasus, a gold Pegasus Professor medallion and a check for $5,000.
This years winners are: Professor Donald C. Malocha from the College of Engineering and Computer Science; Physics Professor Talat Shahnaz Rahman from the College of Sciences; Martin Richardson, a professor in the College of Optics and Photonics and director of the Townes Laser Center; Sudipta Seal, an engineering professor and the director of the Advanced Materials Processing and Analysis Center; Stella Sung, director of CREATE and an internationally known musician, and biology professor and marine conservation expert Linda Walters.
Donald C. Malocha is a professor in the Electrical and Computer Engineering Department and an internationally recognized scholar in the field of surface acoustics and wireless radio-frequency devices.
During his 30 years at UCF, Malocha has accomplished much, including developing the first two clean rooms at UCF and supervising 51 graduate-level students. He always participates in anything that helps students, from guest lectures during open houses to helping students and graduates launch start-up companies.
He's also made contributions that will help many industries, and frequently partners with NASA among other agencies. His development of a wireless-sensor system – like those used in home-security systems – may help protect future spacecraft by detecting threats such as biohazards.
Malocha has written more than 200 technical publications and has 12 patents awarded to him with several others pending. Many professional associations and his students who praise him for his commitment to their education and their success have honored him.
"Dr. Malocha truly deserves this prestigious honor from the university, which recognizes faculty members who have made significant impact on the university and have demonstrated excellence in teaching, research and service," said Engineering Dean Marwan Simann. "A key faculty member in our college, Dr. Malocha is an outstanding educator and researcher who is internationally known for his work."
Talat Shahnaz Rahman is a theoretical physicist and the chair of the physics department. She joined UCF in 2006 and since then has worked tirelessly to improve the teaching of physics while continuing her exceptional research work.
Rahman is internationally renowned for her research in computational nanoscience. Her research finds ways to engineer materials at the nanoscale with optical, magnetic, vibrational, and chemical properties needed for a variety of applications –"building" the materials,on the computer, atom by atom.
Rahman serves on elite panels and regularly receives exclusive invitations to collaborate with top researchers from around the world, including a Nobel Laureate in Physics. Her work has been cited more than 3,500 times. And she's obtained recurring funding from the National Science Foundation and the Department of Energy. She has mentored several undergraduate and graduate students and participates in the American Physical Society's Committee on the Status of Women in Physics and its efforts to change the climate for women and minorities.
"She is in demand worldwide both for scientific presentations and advice to governmental agencies on science issues," said Michael Johnson, dean of the College of Sciences. "W could do no better for a choice for the Pegasus Professorship."
Martin Richardson, director of the Townes Laser Institute and a professor of optics, began working at the university in 1990 when he co-established UCF's Laser Plasma Laboratory at CREOL, the Center of Research in Electro-Optics & Lasers.
In 2003, he was appointed the Northrop Grumman Professor of X-ray Photonics, and in 2007 was named the founding director of the laser institute.
Richardson has published more than 400 articles in professional journals, holds 20 patents with several pending, and has chaired many international conferences in addition to being a former associate editor of JQE (Journal of Quantum Electronics), a recipient of the Schardin Medal, and a Fellow of the Optical Society of America.
"Dr. Richardson is a world-class leader in the area of lasers with a strong commitment to research, education, and partnership," said Bahaa Saleh, dean of the College of Optics and Photonics. "He has received an impressive amount of funding from government and industry sources for research on a wide variety of laser applications, and has mentored a large number of students who now hold high positions in industry. His extensive connections and partnerships with many international institutions bring to UCF great visibility and recognition."
Sudipta Seal joined UCF's Advanced Materials Processing and Analysis Center and the Department of Engineering in 1997. Since then he has been a leader pioneering innovative research in the areas of materials sciences and nanotechnology, providing service through partnerships with high schools and universities around the world as well as inspiring future scientists.
Seal has a long list of accomplishments. Highlights include: the 2002 Office of Naval Research Young Investigator Award and being selected as the Alexander Von Humboldt Fellow and as a Visiting Professor Fellow at the Imperial College of Science, Technology and Medicine in London.
He has penned more than 200 academic articles in peer-reviewed journals and has received more than $12 million in grant funding for his work.
Seal was also one of the principal authors of the master's and Ph.D. degree program in Materials Science and Engineering in Mechanical Materials and Aerospace engineering and was instrumental in initiating a graduate portfolio in nanoscience and technology through the Nanoscience and Technology Center.
"It is very hard nowadays, in an era where emphasis on specialization is rewarded, to find faculty members who excel in all the areas of teaching, research and service," said M.J. Soileau, vice president for the Office of Research and Commercialization. "Dr. Seal is undoubtedly one of these individuals that are hard to find."
Stella Sung, director of the Center for Research and Education in Arts, Technology, and Entertainment (CREATE), first joined the university's Music Department in 1987 as a visiting instructor. She soon became a full-time professor teaching music theory, piano, singing and other courses, including the music composition program she initiated.
In 2006, she became professor of digital media in the School of Visual Arts and Design, where she and her students have won awards for film and video game projects.
She was named in 2007 to the CREATE post, where she develops multidisciplinary research-driven initiatives.
Sung also is an international award-winning composer and composer-in-residence for the Orlando Philharmonic Orchestra and Dance Alive National Ballet in Gainesville.
She has received awards from the National Endowment of the Arts, the State of Florida, Phi Kappa Phi and others, several documentaries have been made about her work, and she serves on numerous prestigious boards.
"Stella Sung is UCF's quintessential Arts ambassador. By all standards by which faculty are judged, she excels," said José Fernández, dean of the College of Arts & Humanities. "She is an internationally recognized artist and composer, and yet, she remains an unassuming and humble individual who puts UCF first."
Linda Walters joined UCF in 1997 and has shared her passion for biology with her students and the community through her teaching, research and service each day of her career.
Walters has received national, state and UCF awards for teaching and research excellence. She's in demand at the national level, frequently being invited to share her research techniques and findings, which she has published in 50 peer-reviewed journals and more than 22 popular publications.
She's received more than $10 million in grant funding and runs the Biology Field Station at Canaveral National Seashore. Her work in the community is also outstanding, providing hands-on opportunities to learn about the important ecosystem and ways to protect it. From school visits to Boy Scouts tours, she's reached out to teach and inspire young people.
Her efforts to restore oyster reefs and stabilize coastal shorelines garnered national attention. Toyota and Field & Stream magazine selected her as one of its 10 national "Heroes of Conservation" in 2011. Locally, Volusia County established an annual "Dr. Linda Walters Day" to recognize her contributions.
Walters also is an enthusiastic collaborator sharing what she knows through the Faculty Center for Teaching and Learning and serving as a mentor to aspiring biologists.
"Dr. Walters is a first-rate scholar addressing very important topics of marine conservation biology," said Michael Johnson, dean of the College of Sciences. "She is also one of the university's best teachers both in the classroom and as a mentor of student researchers."