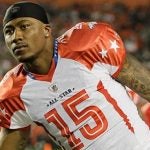 At some point over the coming days UCF will have a player selected in the NFL Draft for the sixth consecutive year and the ninth time in the past 10 years. Which Knight will go first is uncertain but there is seemingly no doubt that UCF will continue its spot as a fixture when the league's player personnel brain trust assembles in New York City and "war rooms" at stadiums across the country Thursday through Saturday.
Whether that first pick is Jah Reid (Haines City, Fla.), Bruce Miller (Canton, Ga.), Jamar Newsome (St. Petersburg, Fla.), Kamar Aiken (Miami, Fla.), David Williams (Lexington, S.C.) or another Knight remains to be seen but they will be entering into a strong fraternity of NFL Knights by the end of the weekend.
UCF is tied with East Carolina for the most NFL Draft selections since the Knights joined the conference in 2005. With a pick in each of the past five drafts and in eight of the last nine years, UCF joins BYU and Fresno State as the only schools from outside of the automatically qualifying BCS conferences which can make this lofty claim.
The program started with exceptionally humble beginnings as a Division III squad in 1979 but just eight years later UCF entered the draft when Ted Wilson and Elgin Davis were taken in the 1987 draft by Washington and New England, respectively. A year later, the Knights too a big step forward with a pair of draftees in the top five rounds as Bernard Ford went high in the third round to Buffalo and Corris Ervin became a fifth-round selection by Denver.
UCF had at least one player taken in four out of the five drafts from 1991-96 before cementing its place on the national scene I 1999. That year the dynamic Daunte Culpepper became UCF's first-ever first round pick. The quarterback was taken at No. 11 overall by Minnesota and that pick would prove wise as Culpepper went on to play in three Pro Bowls for the Vikings. That 1999 draft, which also included Paul Miranda in the fourth round to Indianapolis, started a great trend for UCF as the Knights have had a player picked in 10 of the 12 drafts starting in 1999.
Amongst the many UCF draft highlights of the 2000s was Travis Fisher going in the second round to St. Louis in 2002; future Pro Bowler and two-time Super Bowl champion Asante Samuel going in the fourth round to New England in 2003; receivers Mike Sims-Walker (2007) and Brandon Marshall (2006) going in the third and fourth rounds, respectively, to Jacksonville and Denver; and three Knights being selected in 2008 led by Kevin Smith atop the third round to Detroit.
Last April Torell Troup became the second-highest pick in UCF's NFL history as a massive nose tackles went early in the second round, No. 41 overall, to the Buffalo Bills. At some point tonight through Saturday, several of his teammates as a Knight will look to join Troup in the league. Which one will go first and become UCF's 27th all-time NFL Draft pick remains to be seen.