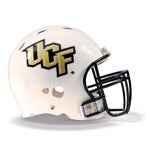 UCF football proudly welcomed one of the best recruiting classes of its history two weeks ago. Over the weekend, six of UCF's signees were selected to the 6A All-State football team.
Amongst the First Team selections were Miami-Dade County's all-time leading passer, Jeffrey Godfrey, wide receiver Joshua Reese, and standout 355-pound defensive tackle Jose Jose. On the second team, defensive end LeBranden Richardson was chosen and third team picks consisted of twin offensive linemen Justin and Jordan McCray.
Miami Central High School teammates Godfrey, Jose, Reese and Richardson helped lead Central to its first-ever state semifinal appearance. With a wide array of talent on both sides of the ball from new signees, joining a team that earned a bowl bid in 2009, the Knights look ahead to an exciting football season.
UCF football 2010 season tickets are currently available. Season ticket plans start at just $99 for six home games. To order season tickets, or to learn more about attending games at Bright House Networks Stadium call 407-UCF-1000 or visit UCFAthletics.com.
The Knights' six-game home schedule in 2010 features Conference USA East Division rivals East Carolina, Southern Miss and UAB, with West Division Rice also making its first appearance at Bright House Stadium. UCF's non-conference slate has NC State from the Atlantic Coast Conference in September and South Dakota to help open the season.
Source: UCFAthletics.com, by Dana Bakich, Feb. 15, 2010