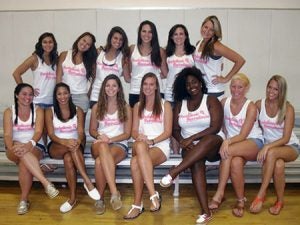 The Panhellenic Council concluded another successful year of sorority recruitment welcoming new members to the sorority community. The Panhellenic Council, made up of 11 sororities, held events each day during the formal recruitment week of August 15-20 in which each sorority educated potential new members on their respective organization.
Throughout the week, each sorority showcased their sisterhood and values in various ways in hopes of attracting potential new members to join their organization. By the end of the week, both potential and active chapter members were anxious to see who their new members would be for the year. Based on a mutual selection process in which the sororities and potential new members select one another and are matched through a computer system, a formal invitation or "bid" was given out and on Bid Day; 603 potential new members ran home to their new sorority.
Two new aspects of Panhellenic recruitment were the addition of a new sorority Delta Zeta as well as a canned food drive. Delta Zeta only participated in the first day of formal recruitment to get a feel for how recruitment works at UCF but will continue their recruiting efforts throughout the fall semester.
The Panhellenic community is very excited to have Delta Zeta at UCF. Along with Delta Zeta, Panhellenic wanted to espouse the value of service and collected canned goods to benefit the HOPE Helps Food Pantry of Oviedo. Because of their efforts, Panhellenic provided over $1,300 dollars in food donations.
Panhellenic Council looks forward to a bigger and better recruitment next year