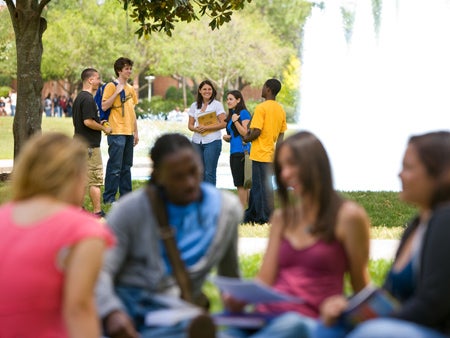 Each semester on the first day of classes, Dr. Rita Graham begins her lecture the same way. "Welcome to the most important class you'll take in the next four years," she promises, her delivery, much like the guarantee it carries, finding life in the battering of laptop keys.
Dr. Graham is the Speech Program Coordinator for the Nicholson School of Communication at UCF, and when she's not busy teaching Fundamentals of Technical Presentations, she's coming up with new ways to equip students with the essential oral communication skills to find professional success no matter what field they choose to enter. It's this drive to improve oral communication and public speaking skills that led her to team with fellow UCF professors Dr. James Katt and Dr. Jeff Butler to create a proposal for the relatively new Undergraduate Education Pilot Project program sponsored by the university.
The program began last year with the purpose of developing new, sustainable initiatives that will have a significant positive impact on the quality of undergraduate education. Last year the university funded two projects, one in college algebra and one in English composition, each a success. The Nicholson School of Communication's proposal, "Preparing Students to Join the Conversation: The Oral Communication Competency Initiative" was one of seven proposals awarded funding this year.
What does their proposal entail? It begins with a change in the way public speaking courses are instructed. As any professor will tell you, public speaking is better taught in small classes. The problem is that smaller classes are more expensive, especially with the ever increasing undergraduate student population at UCF.
Fortunately this obstacle can be cleared. By changing the format of the course to a large lecture accompanied by a small lab section, not only can the learning be more effective, but the ability of instructors to identify students with serious apprehension in the realm of public speaking will be increased exponentially.
In addition, this newfound ability to identify struggling students also allows instructors the opportunity for intervention and the chance to provide valuable personal attention that otherwise may have been impossible.
Similar to other lab courses, the lab section will be taught by GTAs. Eventually, these lab sections will also include enhancements such as virtual space platforms and a video chat forum to rehearse with other students prior to delivering a speech. The idea behind these enhancements is that the more a student is allowed to practice, the less anxious they will feel and the more comfortable their delivery will become.
"The goal of our initiative is to make sure that every student who wants to take a speech course can," says Dr. Graham. "And that it makes the best use of all technology and facilities."
Evidence of the importance of public speaking and oral communication competency is everywhere. Look no further than a recent speech given by billionaire Warren Buffet at Columbia University.
"You improve your value 50 percent by having better communication skills," says Buffet.
One could do worse than improve their value by half.
Perhaps as equally rewarding as the professional success that accompanies prowess in public speaking, are the benefits experienced in personal relationships. Studies have long shown a positive correlation between oral communication skills and happiness.
The potential positive effects of Nicholson School of Communication's Undergraduate Education Pilot Project are far reaching. Time will be the judge in determining whether or not it is a success like its predecessors, but if the signs are currently pointing in any direction, they are pointing in the vicinity of yes.