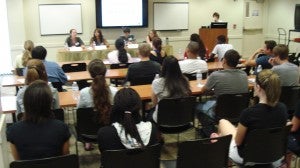 The Sophomore and Second Year Center held a Summer Social on July 25 for Accelerated FTICs– students coming to UCF for the first time with 30 hours or more college credits– at Academic Village in the Nike Programming Center. The theme was "Get Smart, Get Connected."
Twenty-eight students attended and met with academic advisors from SSYC and staff from Student Academic Resource Center staff and Office of Pre-Professional Advising. They learned about valuable academic resources, strategies for academic success, and heard from a student panel who discussed their perspectives as to what helped them be successful in the Summer B session and following semesters. The panel also included an active question and answer session, followed by a very interactive Tic-Tac-Toe game played by the students attending this session.
The event began with an "icebreaker," refreshments were served and students earned 500 LINK points for attending. LINK points can be used at a lottery at the end of the semester.
Student comments included: "It was very informative," "Great attitude," "I loved it – educational and fun games," and "I learned a lot."
SSYC is a department in the Division of Student Development and Enrollment Services.