Marketing gets a bad rap, but it can create so much good. Mrudul Nilangekar has faith in people and says that's why she is getting her Ph.D. in business administration in the marketing track.
"Marketing is such an interesting force in the world," says the India native. "It makes many people think of coercion or unnecessary selling. However, I feel that everything we do is an image we project to others as well as ourselves. How authentically we choose to be ourselves and help the world is what I am passionate about. Therefore, I study marketing, to use this amazing tool to bring about lasting change for good, for individuals and the world at large."
Her research project, "When does self-focus lead to higher good for the world compared to other-focus: An investigation of compassion," was recognized with an award at the Student Scholar Symposium on March 31. The symposium is part of Student Research Week, which concludes today. The week-long event celebrates student research and encourages others to get involved.
We sat down with Mrudul to chat about her research project and how it is shaping her future career path.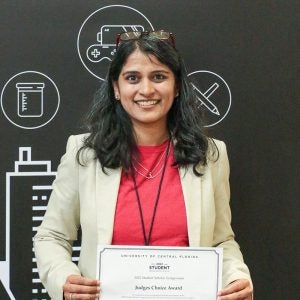 What does your research examine and how it impacts the community?
Generosity and charitable giving have been widely studied and for obvious reasons are encouraged across the world and in all fields of life. However, as academicians or marketing practitioners we are very often focused on the short-term effects of various variables on increasing or decreasing prosocial behavior. Through my research, I want to examine how to bring about lasting change for good that positively impacts the self as well as the other. In the essay I am presenting at the Student Scholar Symposium, I examine how self-compassion creates longer lasting positive effects for the donor (or volunteer) themselves in addition to fostering high prosocial behavior.
How did you develop the idea for this research project?
From a young age, I have been interested in spirituality, self-transformation and how to live aligned to a higher purpose. And, through my in-depth studies and work in marketing over the years, I have seen its incredible potential to raise awareness, foster connections and inspire deep emotions. I wish to combine both my passions and use marketing to shed more light on spiritual values, such as, self-compassion, which have continuously and consistently changed my life for the better.
What else should people know about your research?
I believe as academicians we must take seriously the responsibility of bringing new thought and initiative for positive change in the world. The wedge between science and spirituality is something that I want to work towards removing. My research is a drop in the ocean of prosocial behavior, but I wish to contribute to the critical mass needed to help the world move towards a more compassionate and connected ecosystem.
Why does research matter to you/the world?
Very often we believe that self-transformation or spirituality is very abstract, boring or to be done at a later age when we don't have anything else to do. However, for me spirituality is very simply, "How we view the world?" The same event can make someone feel negative but inspire another to become an incredible force for good. Also, spirituality doesn't require us to save the world to be a good person. There are easy steps everyone can take to make their lives happier and richer and at the same time help the world. Learning to be more self-compassionate is one of those steps.
In addition to the above, there are some amazing people engaged in incredible, selfless work across the globe. Through my work, I want to support and increase awareness of their mission.
Why did you pick UCF?
I loved the research interests of the faculty here and how open they were to talk with me when I was looking at different programs across the country.
What is your career goal?
My immediate goal after graduating is to become an assistant professor or research fellow in marketing. Long-term, I wish to be a thought leader and champion for prosocial behavior both inside and outside the university setting.
What are some of your hobbies?
I enjoy adventure sports and have gone bungee jumping in Scotland. Love travelling, reading, watching movies and mobile games. I am a trained mediation teacher and continuous practitioner of the same.