Rural communities in 11 Central Florida counties will benefit from a grant awarded to the University of Central Florida this month and will help create a national model for disaster preparedness.
Researchers from UCF's Center for Public and Nonprofit Management will examine how rural communities in 11 counties in Central Florida — Brevard, Citrus, Flagler, Lake, Levy, Marion, Orange, Osceola, Seminole, Sumter and Volusia — prepare for, respond to and recover from natural disasters.
Their goal is to identify strategies that minimize the impact of disasters in rural areas. These best practices will be shared with rural communities throughout the nation.
"Rural communities face unique challenges in dealing with disasters," said principal investigator Naim Kapucu, director of the center and associate professor of public administration. "They're spread out and not heavily populated, making communication more difficult. They also tend to have limited resources."
The National Institute of Food and Agriculture provided the $387,556 grant.
Kapucu and co-investigators Christopher Hawkins and Fernando Rivera think Central Florida is an ideal place to examine emergency management practices in rural areas. The region has 87 rural communities, according to 2000 U.S. Census data, and they are located in a region prone to natural disasters.
The research team is particularly interested in learning how individuals, government agencies, community groups and other organizations in rural communities and the surrounding areas interact in the face of disaster.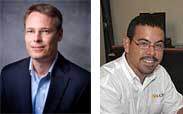 "The nature of these relations plays a key role in the resiliency of rural communities in a disaster," said Hawkins, an expert in social network analysis and assistant professor of public administration.
To study these relations, Kapucu, Hawkins and several graduate students will identify all organizations in the 11 counties that manage and respond to disasters. The will then inventory their roles and responsibilities and use a Geographic Information System to create a map to analyze how they work together and share information.
They also will obtain data from policy manuals, state and federal emergency management reports, and newspaper articles.
In addition, the team will examine the effect of land-use, labor markets and housing on the resiliency of rural communities. Previous studies have shown that areas with agricultural industries that employ local residents are particularly vulnerable to natural disasters.
Rivera, a sociologist, will explore the influence of socio-demographic and cultural factors on a rural community's ability to cope. The age, social class and ethnicity of residents are among the social forces known to affect how a community prepares for and recovers from disasters.
The researchers will glean more information by analyzing a survey of Florida's local and regional emergency managers taken immediately after three hurricanes hit the state in 2004. More than 90 percent of the survey recipients responded.
The team also will conduct a focus group in each county to gain input from community members.
Kapucu said one of the most important parts of the study will be a workshop held toward the end of the two-year project. "We will bring national and international experts and local practitioners together to share the best strategies rural communities can use to manage the impact of natural disasters," he said.