On March 17 aerospace engineering alum Breanne Rohloff '19 will settle into her 2016 Chevy Cruze and make her daily one-hour commute to Kennedy Space Center (KSC) where she works as an engineer. Rohloff's car is an automatic because, she admits, "I don't know how to drive a stick shift."
Somewhere in the same KSC parking lot, Dan Zapata '15 '18MS will pull his Honda Accord between a pair of yellow lines and lock the doors out of habit. For Zapata and Rohloff, the parking of their everyday cars will be the last moments of normalcy on this historic day.
"We've seen a lot of amazing things," says Zapata, who earned his bachelor's and master's in mechanical engineering at UCF "but this will be a whole new level of awe for us."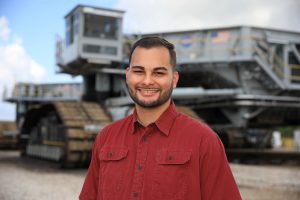 It will be a new level of awe for the entire world. Zapata and Rohloff just happen to have a closer view as history is made. At 5 p.m. the doors of the Vehicle Assembly Building at KSC will open. There, standing in the giant berth, the enormous Orion spacecraft will pose atop the towering Space Launch System. Marching bands will play. Dignitaries will applaud. Photographers will kneel and focus. Like royalty, the largest spacecraft ever built will roll past them on the mammoth back of the crawler-transporter 2 (CT-2) and continue the 4.2-mile ride to the launch pad for fueling and simulated countdown known as a wet dress rehearsal of the Artemis I mission (the actual launch is scheduled for early summer).
Onlookers will not have to scramble for a good look. Orion and the SLS will travel at less than 1 mph in the strong arms of the 6.65-million-pound CT-2 — the largest self-powered land vehicle on our planet. At the 6-inch steering wheel, 26 feet above the road, Rohloff and Zapata will take turns at making sure the spaceship arrives at Launch Pad 39B without a scratch.
"Mentally, it's intense," Rohloff says. She's driven the CT-2 during operational runs and tests, but this payload is literally in a league of its own. "We've attended briefings, learned the history, and gone through the training. But when we're on the crawler and moving a spaceship as big as this … nothing can simulate it."
How did two UCF graduates, still in their 20s, land in the driver's seat of the world's largest self-powered vehicle and the responsibility that comes with it?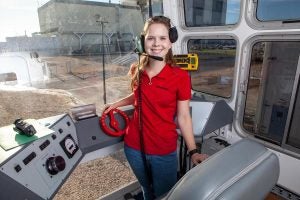 For Rohloff, the ride started in Mansfield, Ohio, where she could only imagine a concept as surreal as "a space program." Two cousins led her to UCF, which brought her much closer to NASA and real rockets. During an internship at KSC, Rohloff learned from long-time engineers who occasionally took her for rides aboard the crawler.
"It looks massive in pictures, but in person it's way bigger and way slower than you expect," Rohloff says.
Zapata grew up in South Florida, enrolled at UCF to study in the prestigious engineering program, and started a career in power-grid consulting after graduation.
"After a couple years I wanted a change of scenery," he says.
So, Zapata interviewed at NASA for a position that mentioned "transporter maintenance." He landed the job and got the change of scenery he wanted.
"One day I'm driving through the yard toward the crawler and I look up and think, 'Oh my … this is the transporter, the vehicle that moves rockets.'"
And now he and Rohloff are driving it. They're hauling NASA's most powerful rocket and Orion, and covering the first four miles on a journey toward life on the moon and then onto Mars. The word "big" comes to mind. So do a few others.
Awe
Rohloff: There's always a sense of awe when I'm on the crawler and feel it moving. But there's also a sense of humility because we're being entrusted to transport this historic rocket.
Zapata: We're literally driving a vehicle the size of a building, and it's the same vehicle that's carried Apollo rockets and now a skyscraper to the launchpad. Nothing can compare to it.
Preparation
Rohloff: We went through two years of training to become crawler drivers. It takes time, determination, and mental energy to get to this point. Put it this way, it didn't take two years to prepare for an engineering final.
Zapata: There's no 101 class for this job. It might be cool to offer one, though.
Rohloff: Most important is listening to the wisdom of the people who have driven the crawler before us. They know better than anyone what it's like and what to watch for.
Hazards
Zapata: You can only be exposed to the noise for so long, which is why we wear really good earplugs. And Kennedy Space Center is part of a wildlife preserve, so yeah, that can be interesting.
Rohloff: Alligators sometimes cross the roadway. I've seen turtles out there, too. Fortunately, the animals feel the ground vibrating and they have plenty of time to move.
Adrenaline
Zapata: When we drive the crawler, we're high enough to see people gathering to watch in the distance. This time the crowds will be bigger than usual.
Rohloff: It's exciting to feel the power and to know everything is moving — the crawler, the spacecraft, this entire structure. When we aren't driving, we're itching to take the wheel. We tap each other and say, "OK, it's my turn."
Focus
Rohloff: We switch every hour or so. It's the same length of time as my drive to work in the morning, but this drive is draining. You're listening to feedback from dozens of people, you're watching through windows all around, you only drive a few hundred yards and you think, "Phew! I'm ready to mentally reset."
Zapata: There's a lot of equipment and manpower invested in this. Just for the crawler, we have dozens of people paying close attention to everything.
Anticipation
Zapata: The steering wheel is smaller than a golf-cart wheel. The wheel sends messages to the hydraulics, so we have to be aware that it takes a little time for the crawler to adjust its movement.
Rohloff: We use ground markers — like a cement pillar, a grass line, or a light pole — as indicators to start a turn. If we don't time it right, then we have call for a stop and back up. At first, it's a little embarrassing. But this isn't about personal pride. It's a big team effort to ensure a smooth ride for the cargo.
Significance
Rohloff: I'm not the first woman to drive the crawler, but I am the only woman currently driving it and the first Artemis generation female. When I came here as an intern, I knew NASA would soon be sending the first woman and the first person of color to the moon. It means a lot to help pave the way for that to happen.
Zapata: We're at the pinnacle of another starting point in space history — to eventually support life in deep space. There are people working here who made Apollo possible. In 30 or 40 years we'll be able to say, "We were part of Artemis." So, I'm excited to get the rocket to the pad and watch it launch.
Rohloff: I'm not sure exactly where we'll be watching, but I know we'll have an incredible view of history taking place.