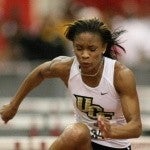 Junior Jackie Coward became the second member of the UCF outdoor track & field team this season to be honored as the Conference USA Female Outdoor Track & Field Athlete of the Week, the league office announced Tuesday. Coward was honored after setting two school records at Florida's Tom Jones Memorial this past Saturday afternoon.
The Knights' junior broke program records in both the 100- and 400-meter hurdles at the Gator's Percy Beard Track. After running the fastest qualifying time in the preliminaries, Coward ran a 12.96 in the finals of the 100m hurdles to take first place. That time in Saturday's final is the fastest wind-legal mark in the nation this season and ranks as the fifth fastest under any condition.
Following her win in the 100m hurdles, Coward would go on to claim first place and another school record in the 400m hurdles. Finishing in 57.78, Coward bested the previous UCF record in the event of 58.92 by more than a second. Her time ranks as the 15th best in the nation this season.
Coward was honored during the indoor season as the 2011 C-USA Indoor Track Athlete of the Year in March and the C-USA Female Indoor Track & Field Athlete of the Week on Feb. 15. However, this is the first time in her career that she has been recognized with a weekly accolade during the outdoor season.
Freshman Aurieyall Scott also earned the weekly honor from the league office on April 5.