Max and Jogy, two K-9 officers with the UCF Police Department, are safer thanks to a donation by Canine Wounded Heroes.
The nonprofit donated to UCFPD two custom-built canine tactical vests, which can be used to protect the dogs from an attack while they are working.
The vests were produced by K9 Tactical Gear. The two companies work together to raise funds for the thousand-dollar K-9 vests and to equip agencies around the country with them at low to no cost.
Kim Kapes, the director of the local refuge In Harmony With Nature Animal Haven and a member of the board for Canine Wounded Heroes, was the person who made it all happen for UCFPD.
"Our K-9 officers deserve the same level of protection and care that our human officers receive," Kapes said.
Though the K-9 officers are not typically put in life or death situations, it's better to have tools like the vests and not need them than to not have them in the case of an emergency.
"The vests are a great tool for our agency," said UCFPD K-9 Trainer Corporal Chuck Reising. "The dogs are an important part of our team, and thanks to Kim and Canine Wounded Heroes, they are now better protected."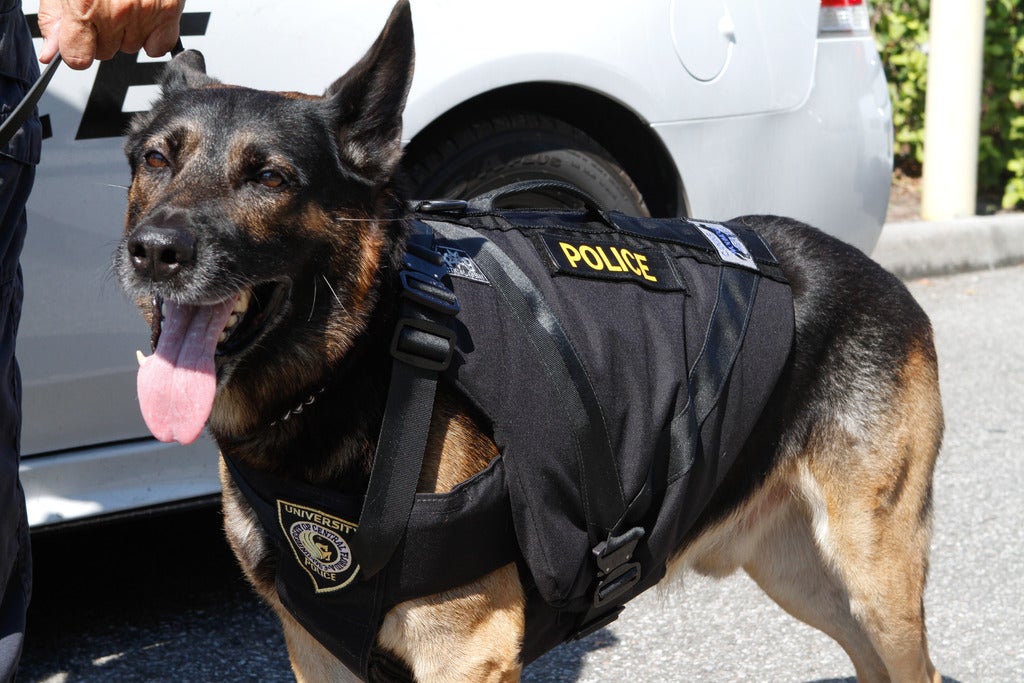 Next up are two more vests for UCFPD's other K-9s, Samson and Justice. Their vests also will be donated by Canine Wounded Heroes and were ordered this week.
To learn more about Canine Wounded Heroes or to donate, visit http://www.caninewoundedheroes.org/index.php.
An event next month also will help to raise funds for UCFPD K-9.
Delta Delta Delta and Sigma Chi are teaming up for a kickball fundraiser. The April 12th event, which will be held at Tri Delta and Lake Claire, will include food, games and dogs, with all proceeds going to UCFPD's K-9 fund.
Learn more and donate to the cause at https://www.gofundme.com/ucfpdk9.