When Frederick "Austin" Rivers '20MPA first began working toward his master of public administration, he wasn't planning to start a nonprofit — but plans change.
In 2020, Rivers founded Knit the Rainbow, a nonprofit that provides handmade, warm garments for LGBTQ+ youth facing homelessness in New York City.
His inspiration stemmed from a group project for a Strategic Planning and Management course he took at UCF, in which he worked with Equality Florida, a civil rights organization dedicated to securing equality for the LGBTQ+ community statewide. From that point, Rivers was inspired to continue serving a community he was passionate about.
"I was already involved in an organization that was working with LGBTQ+ people, ideas and policies, and as a Black, gay man myself, I knew this was definitely a community I could see myself helping," Rivers says.
"I was already involved in an organization that was working with LGBTQ+ people, ideas and policies, and as a Black, gay man myself, I knew this was definitely a community I could see myself helping." — Austin Rivers '20MPA
Pinpointing where to start was tough, but the New York City resident decided to begin in his own state. The statistics he found regarding the LGBTQ+ community in New York were staggering. Estimates show that LGBTQ+ youth — those between ages 12 and 24 — comprise up to 40% of the total unaccompanied homeless youth population in the United States, according to a study from Chapin Hall at the University of Chicago. There are thousands in New York City alone.
"I knew these were the people I wanted to help, but I didn't know how to," he says. "I couldn't start a shelter. I didn't have the resources, connections or money to start a shelter. But what I could do was knit."
Rivers graduated from New York University in 2016 with a dual degree in politics and musical theater, and he had spent some time performing on a national tour in Japan with Disney. It was while he was traveling city to city via bullet train that he learned how to knit from one of his classmates.
With New York's cold winters in mind, Rivers knew he could knit garments for these youth and connect with organizations to distribute them. That's when Knit the Rainbow was born.
"Because of my studies at UCF, I knew what it took to run a nonprofit: I knew that I had to have a board of directors and a budget, and I knew how to make a budget," Rivers says. "I also knew how to make a strategic plan. I found two other people who really were passionate about the mission, and we collectively started the board of Knit the Rainbow and got to work."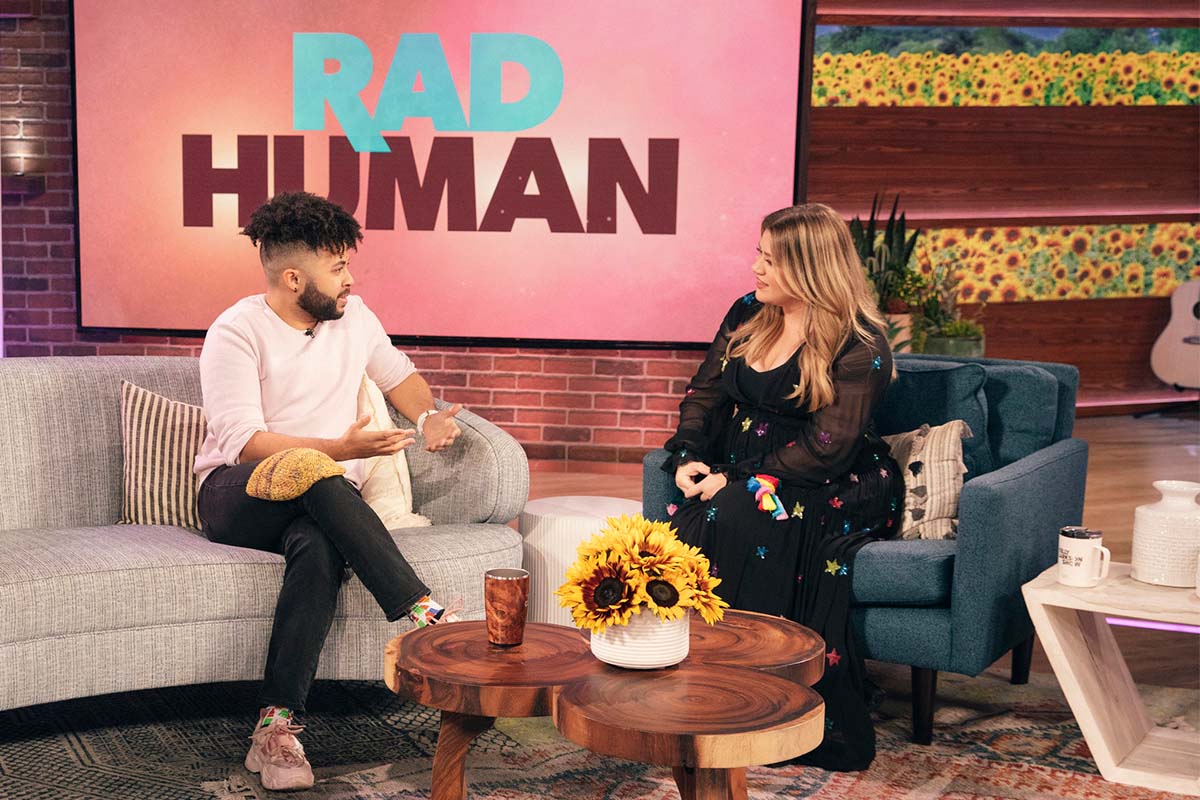 The organization even caught the attention of producers from The Kelly Clarkson Show, who invited Rivers onto the show on Jan. 12 to share about Knit the Rainbow's "craftivism." In its first year as a nonprofit, Knit the Rainbow distributed 4,000 garments to the at-risk, homeless LGBTQ+ youth in New York City. Rivers says his team hopes to expand their efforts to cities in New Jersey, Connecticut, Pennsylvania and beyond.
In addition to garment distribution, Knit the Rainbow has a pattern design program and works with crochet and knit pattern designers to share patterns with volunteers. Rivers says the main reason Knit the Rainbow only accepts handmade garments is because they're made with love, and the goal is to spread both love and warmth to the children and young adults who will receive them.
"Crafters know that one of the hardest things is picking the pattern you want to use to get started, and people will spend hours on websites searching through for patterns," Rivers says. "We wanted to make it easier for people who were either just learning how to knit or crochet, or those struggling to find a pattern for something that we needed, so we collect patterns in one place and offer them to our volunteers. We also want to give youth a cool, fresh new perspective on fiber arts and give them garments that they're proud to wear."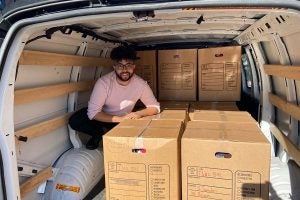 The team has a community outreach program in the works, through which they will go out into the community and teach youth how to knit and crochet garments for themselves. They would provide yarn and other necessary materials, bring in teachers and work with other nonprofits to facilitate the classes. Rivers says he'd eventually love to also be able to offer classes in other fiber arts, such as sewing, weaving and yarn dyeing.
Knit the Rainbow also focuses on education, diversity and inclusion. Its education program aims to teach others about the housing crisis these youth are facing and how they can get involved. In the diversity and inclusion program, the team hosts a series of webinars in which a panel of diverse crafters shares what it means to be a "diverse person in the crafting world."
"Historically, crafting has been viewed and stereotyped as a hobby mainly for older white women, but there are so many other people who are crafting, designing and yarn dyeing," Rivers says. "I want to be able to provide a space for people to talk about what it means to be a Black crafter, what it means to be a Latinx yarn dyer, what it means to be an Asian pattern designer, anything like that. We're hoping to have conversations and bring light to the diversity that we have within the fiber arts community."