Although Eric Smith '93 has served in numerous roles throughout his 27-year tenure at the Orlando Police Department, becoming the city's newest chief of police is the most prestigious.
Smith was recently sworn in during a change-of-command ceremony in downtown Orlando. He stepped into the role following former Chief Orlando Rolón's retirement from the department after 29 years of service.
Having earned his bachelor's degree in criminal justice, Smith credits UCF with helping to lay the foundation for a successful career in law enforcement. He initially moved to Orlando to play football at UCF. As a student, he completed an internship with what is now Homeland Security Investigations. The contacts he made proved invaluable for allowing him to step into his career.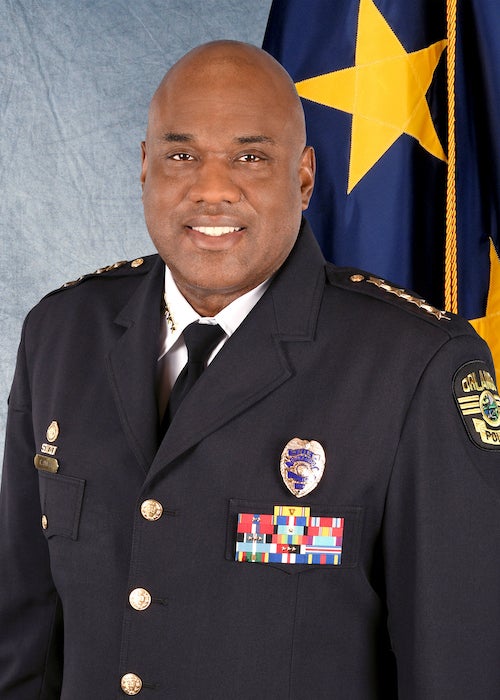 "To have an internship opportunity as a part of the criminal justice program and to see what opportunities there are in field was amazing to me," Smith says "That's what got me the job at the Orlando Police Department. The customs agent in charge took me to meet the Orlando police chief and the sheriff of Orange County. There were classes that were geared toward my profession, but the internship opportunities really helped lead me to the opportunities I've had."
Smith started his career as a patrol officer in Orlando's Parramore community and has been part of various department units since. Although he went into law enforcement with the intent of helping make the community safer, he quickly realized the impact he could have on people's lives, especially the youth. Smith points to the experience he had running a Boy Scout troop while doing community outreach as part of the Parramore bike unit as one of the highlights of his career.
"It was so much fun, and the kids were excited to work with us police officers, which really touched me," he says. "I started really looking at ways to better serve the community and ways to better help our youth. That experience just stuck with me and affirmed that I'm making a difference in people's lives."
Before stepping into the role of chief of police, Smith most recently served as the bureau commander for the Patrol Services Bureau, a section of the Orlando Police Department that is comprised of more than 500 sworn officers. He also served as the department's high-risk incident commander and led the SWAT Team –– of which he was a member for 19 years –– along with the Crisis Negotiations Team, Emergency Response Team, Emergency Services Team and the Crisis Intervention Team.
Smith views community service and engagement as a pinnacle of his new role and aims to be known as a police chief who cares.
"I want to be involved at the base level of the community," he says. "I want to go to neighborhood watch meetings, homeowners' meetings, things of that nature. I've made so many contacts in the community to the point where people could just pick up the phone and call me. Being in a role where I can help people is just so important to me. Our community is so close, and having an opportunity to better serve them is something I'm passionate about."
Along with serving the community, Smith says it is the greatest honor to be able to lead the men and women at the Orlando Police Department going forward.
"I think my tenure but also my diversity have been some of the main things that have prepared me to be the chief of police," he says. "I was also given the opportunities to do many things to help give me a chance to shine in this role. To be able to lead high-caliber officers like this is a great honor for me, and also for my family. It's a culmination of my whole career, and I'm happy they were able to see that. It's a great accomplishment for me to be fulfilling that dream."
In addition to the roles he has held over the span of his career, Smith is a graduate of the 269th Session of the FBI National Academy and has also completed the FBI Florida Executive Development Program. He also serves on numerous boards, including YMCA of Central Florida, Valencia College Student Affairs, After-School All-Stars, United Against Poverty, Camaraderie Foundation and the Central Florida Boy Scouts of America.