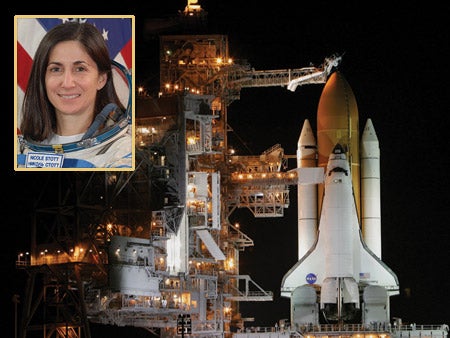 Nicole Stott, a native of Clearwater, Fla., will make her first journey into orbit on space shuttle Discovery's upcoming mission to the International Space Station. She will live and work aboard the station for three months.
Discovery is targeted to launch at 1:36 a.m. EDT, Aug. 25, from NASA's Kennedy Space Center in Florida.
Stott is one of seven astronauts who will fly on Discovery's STS-128 mission. The 13-day flight will deliver science and storage racks, a freezer to store research samples, a new sleeping compartment and a treadmill named after comedian Stephen Colbert. The name Colbert received the most entries in NASA's online poll to name the station's Node 3. NASA named the node Tranquility.
Once Discovery docks with the station, Stott will officially trade places with Tim Kopra, who has been aboard since July. At that point, Stott will become a member of Expedition 20 and will remain on board until the STS-129 shuttle mission in November.
Stott graduated from Clearwater High School and received a Bachelor of Science degree in mechanical engineering from Embry-Riddle Aeronautical University in Daytona Beach, Fla. She also holds a Master of Science degree in engineering management from the University of Central Florida in Orlando, Fla.
Stott was selected as an astronaut in 2000 and worked as a support astronaut for the crew of Expedition 10. She also lived and worked underwater in 2006 as part of the NEEMO 9 mission.
For Stott's complete biography, visit the NASA Biographical Data Web site. For the latest information about the STS-128 mission and crew, visit the NASA Shuttle Web site.
Special thanks to NASA and Kennedy Space Center for this story.