In emergency management, every disaster is considered a local disaster. It's a perspective that underpins the foundation of the field –– even at the nation's capital, where Lauren Gros '22MECM brings her experience in local emergency management to the national stage.
A native Floridian and Orlando resident during her teenage years, Gros is no stranger to extreme weather and its impact on local communities. A nascent interest in government drew her to Georgetown University by way of an athletic scholarship to study international relations and policy. She worked as a legislative aid there before returning home to Florida during the COVID-19 pandemic.
"I developed an interest in climate-based policy during my time on the Hill as an undergrad, and I slowly figured out that there's really no better way to study the intersection between climate and people than through the lens of emergency management," she says.
Gros enrolled in UCF School of Public Administration's Master of Emergency and Crisis Management — which U.S. News & World Report just ranked the No. 2 homeland security program in the country — and was immediately thrust into the breakneck pace of local response efforts to COVID-19 through an internship with Seminole County's Office of Emergency Management.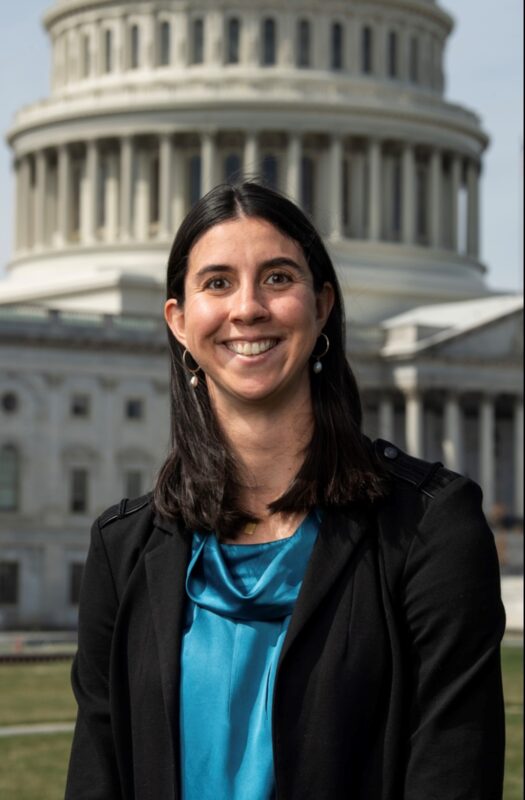 "The great thing about UCF's program is that they really give students a foundation in emergency management to learn as much as they want," Gros says. "The internship component just brings it all together, as you get to see how those concepts are really put into action. My time in the Emergency Operations Center really solidified that."
Gros spent her final semester at UCF with the university's Urban Resilience Initiative to learn about the latest in academic research related to projects she had worked on as an intern.
After graduation she accepted a position on Capitol Hill, where she is now a member of the subcommittee on economic development, public buildings and emergency management within the U.S. House of Representatives' Transportation and Infrastructure Committee. Gros serves as a primary subject-matter expert for members on policy and legislation relating to emergency management. She says her local experience is a valuable perspective she brings to the table.
"Having local experience in the federal government is so valuable, because so many people don't have it," she says. "Emergency management is a bottom-up field, not top-down. It's one thing to understand the challenges that local and state agencies face, but actually experiencing it gives you the ability to really visualize how policy will impact them."
Gros says her goal is to make federal policy on emergency management more efficient, streamlined and accessible for local stakeholders.
"I've seen the local emergency manager with 20 things on their plate trying to navigate complex federal procedures," she says. "We need to formulate policy so that the federal government's resources get where they need to go in a way that allows those local officials to keep doing their jobs."
Gros is just one of numerous success stories out of the Master of Emergency and Crisis Management, which has ranked among the top 10 homeland security programs in the country for six consecutive years, according to U.S. News.
"Lauren was a joy to have as part of the team," says Alan Harris, chief administrator for the Seminole County Office of Emergency Management. "She worked on a plan to make sure certain homeless populations were aware of emergency sheltering to ensure equity and inclusion to this segment of our community, in addition to her work on our team during COVID-19 response and recovery. She demonstrated a true passion for public service. Our team is so happy to hear about the impact she is making on the field."