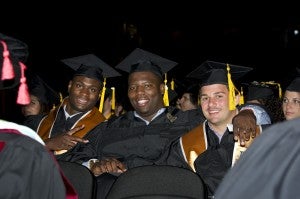 Ruling the gridiron and the classroom, the UCF football team has plenty to boast at the start of the 2012 season. Living up to the title of student-athlete, 11 Knights who have already earned their bachelor's degree have UCF among the leaders in graduated players.
In a survey that went out to all 124 Football Bowl Subdivision schools, the Knights are tied for third with Florida State and trail only Virginia Tech (15) and Pittsburgh (12). In all, eight teams across the nation boast 10 or more graduates.
The stellar group for the Knights includes Rob Calabrese, Rey Cunha, Lyle Dankenbring, Kevin Garvy, Billy Giovanetti, Theo Goins, Brendan Kelly, Latavius Murray, Jordan Rae, Ray Shipman and Phil Smith.
Along with the 11 graduates who each play a significant role on the team, UCF earned an all-time high 79 rating in the NCAA Graduation Success Rate earlier this year and received the Conference USA Sport Academic Award for boasting the highest team grade-point average of all 12 C-USA football programs.
Over the past three years, the Knights have been well represented on the C-USA Honor Roll with at least 35 student-athletes carrying a GPA of 3.0 or better. In the same time span, the football program has also had two or more members of the team earn C-USA Academic Medals while boasting GPAs of 3.75 or higher.
The Knights (1-0) will make their return to the Buckeye State on Saturday when they head to Columbus for a noon showdown with No. 14 Ohio State (1-0) on ESPN2.