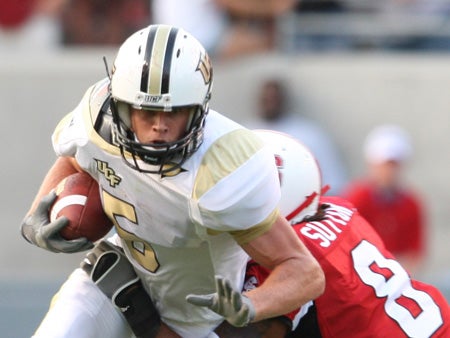 UCF senior wide receiver Rocky Ross (Jacksonville, Fla.) was named Tuesday to the ESPN The Magazine Academic All-America squad as selected by CoSIDA, the College Sports Information Directors of America.
Ross, a team captain and a second-team Academic All-American pick, is second on UCF with 31 catches for 371 yards and three touchdowns.
Ross, who would like to become a high school athletics director if a professional football career doesn't pan out, is working towards a master's degree in sports and fitness after earning his bachelor's degree in criminal justice. He maintains a cumulative grade point average of 3.88.
The first-team Academic All-America selections at wide receiver were Zeke Markshausen of Northwestern (3.46 GPA, 79 rec., 774 yards, 3 TDs) and Blair White of Michigan State (3.89-64-876-8). Joining Ross on the second team is Stanford's Ryan Whalen (3.43-48-786-3)
"This means a lot to me," Ross said. "Anytime you talk about all of America, it's rewarding both for the school and as an individual. If you really want to make good grades and put a lot of effort into that, good things can come. I'm happy that they selected me. It's a great honor, especially to be on just a two-person all-time list with someone like Keith (Shologan). (Academic Services for Student-Athletes Associate Director) Kristy Belden and her staff help you out with everything from classes to tutors. It's up to the student to take advantage of that."
Under head coach George O'Leary, the Knights have been no stranger to academic success. Not only have Ross and Shologan become the school's first two ESPN The Magazine Academic All-Americans in football, but the whole team has excelled. The team boasted a combined cumulative GPA of 2.990 at the conclusion of the summer semester. Ross is one of seven Knights who have all ready earned a bachelor's degree, a sum which ties UCF for 10th nationally. A total of 69 Knights are wearing special "Scholar-Baller" decals on the back of their helmets this year, emblematic of earning a 3.0 semester GPA during the 2008-09 academic year. That national program was started by UCF professor Dr. Keith Harrison.