Lake Lindo '19 grew up minutes from the UCF College of Medicine campus where he now studies, inspired by his physician mother who provides psychiatric care to the community's children. Today, in his third year of medical school, he has taken that inspiration, a love of science, and his community service to lead efforts to make sure everyone has equal access to healthcare.
"As leaders it's up to us to be advocates for change," he says. "Doctors are not only leaders in the hospital, they must be leaders in the community."
Lindo is currently undecided on a medical specialty, but he considering a career in psychiatry or radiology once he graduates medical school. And he will do so as a "double Knight" — a UCF-trained physician who also earned his undergraduate degree with honors from UCF's Burnett School of Biomedical Sciences, where he conducted research on how differing levels of PNMT (Phenylethanolamine N-Methyltransferase) protein expression in the brain impact appetite, weight gain and balance.
Service to others has always been a part of his life. Before medical school, he volunteered in the Radiology Department at the Orlando VA Medical Center, where he helped military veterans navigate to their scheduled X-rays and scans. In his medical school admissions essay, he wrote how he was honored to serve the "courageous and selfless individuals who have given so much of themselves to serve a larger purpose."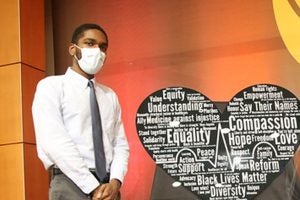 He is an artist — he loves to draw and paint — and helps lead the medical school's Arts in Medicine student organization. During the early days of COVID-19 isolation, he volunteered at Westminster Towers in Orlando, providing painting workshops for seniors who, because of the pandemic, had little access to outside visitors.
After the 2020 killing of George Floyd at the hands of police, Lindo helped organize a White Coats for Black Lives event at the medical school, where students, faculty and staff took a knee for 8 minutes and 43 seconds — the amount of time a Minneapolis police officer police kneeled on Floyd's neck after his arrest, causing his death. Lindo also created a word art Black Lives Matter mural that hangs in the medical school showcasing words like courage, love, equity, understanding, and ally that were submitted by students, faculty, and staff.
"Art," he says, "can be used to illustrate the human condition and highlight the qualities that we all share."
As a profession, medicine has very few African American male physicians — and Lindo works with multiple groups to promote the diversity of healthcare providers and show minority students of all ages "not be discouraged, that there are people who look like them in medicine."
An active member of the College of Medicine's Office of Diversity, Equity and Inclusion and a leader of UCF's Student National Medical Association, which represents minority medical students, he is focused on addressing healthcare disparities. He emphasizes that the lack of health equity has dramatic, life-and-death consequences. Without equal access to medical care, minorities experience lower life expectancies, worse health outcomes, and a reduced quality of life.
"At the end of the day we are all human," Lindo says, "and we all deserve equal access to healthcare."
He speaks often about the importance of connecting with others — being empathic, engaged and cherishing our differences as well as our connected humanity. Those traits earned Lindo the College of Medicine's 2021 "Faculty Choice Award," which is given to the medical student that faculty members would most want caring for a family member.
"I am so humbled by the award," he says. "I aspire to be a physician who never forgets the patient always comes first. I learned from my mom how fulfilling it is to make a positive impact on someone's life by providing support and healing when one is at his or her most vulnerable moment."