UCF this week was named among the top-producing Fulbright institutions in the nation for students in 2020-21, as published Monday by The Chronicle of Higher Education.
Twelve UCF students were chosen to participate in the program abroad this year to work on research projects or teach English. Out of 600 higher-education institutions that participate in the Fulbright program, 58 made the list of top producers and UCF was the only Florida institution on the list.
The U.S. State Department sponsors the program to promote international goodwill through the exchange of students in the fields of education, culture and science in more than 150 countries.
"UCF has some of the most talented students in the country. This is a tremendous honor and accomplishment for the university," says Morgan Bauer, director of UCF's Office of Prestigious Awards in Burnett Honors College. "Our students strive for academic excellence, hail from diverse backgrounds, prioritize community focus and have a deep passion for learning from other cultures."
Fulbright Student Scholars go on to represent the university around the world. They contribute as active leaders and learners on a global scale through research, study, teaching and community engagement.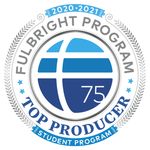 "We have our most talented students traveling to all corners of the world, spreading the UCF name and bringing the exemplary values and experiences associated with being a UCF Knight," Bauer says. "We are now recognized as not just a top national university but also a leading global university, which speaks to the strength of our students and their achievements, as well as the support offered by UCF to assist students in their academic journey."
Students left the United States in January to learn and work for the academic year in 10 countries — from Scotland to Malaysia to Uzbekistan.
Through the years, UCF has had 57 Knights participate in the travel-abroad program. Twelve students this year is the university's single-year record.
"With the help of faculty and other student-serving departments we have achieved this goal," Bauer says.
Students interested in applying for Fulbright awards or other major national awards should contact the Office of Prestigious Awards at opa@ucf.edu.