UCF's founding dean of Libraries brings decades of successful leadership experience and a passion for shaping the future of higher education through libraries.
Beau Case joins UCF Nov. 12 from the University of Toledo, where he has served as dean of University Libraries since 2017 and director of the University Press. Case will play a key role positioning UCF Libraries to support UCF as a leading metropolitan research university that serves a highly diverse community.
The appointment by Michael D. Johnson, interim provost and vice president for Academic Affairs, concludes an extensive national search process.
"Mr. Case champions libraries as vital for society in promoting discovery, inclusion, community engagement, and talent development," Johnson says. "I look forward to his contributions in further distinguishing academic excellence and student success at UCF."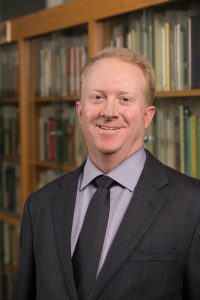 As the founding dean of UCF libraries, Case will work with faculty, staff, students and other stakeholders to reimagine how the libraries can energize and advance the university's academic enterprise. During the interview process Case revealed much about his vision, strategic plans, and passion for developing the "library as a catalyst for innovation."
"I am honored to be the founding dean of UCF Libraries. I am impressed by the excellent library faculty and staff and their spirit of innovation. I also am thankful for the support of the students in renovating the Hitt Library," Case says. "I look forward to the libraries beginning a new era of engagement on campus and beyond in our mission of enhancing research, teaching and learning."
Case's more than 30 years of leadership at large public research universities include serving as head of Arts and Humanities at the University of Michigan Library and as head of Linguistics and West European Languages at the Ohio State University Libraries. He has also worked in libraries at Indiana University and UCLA. Case is a member of the global and North America advisory boards for Cambridge University Press.
Among his accomplishments Case describes completion of major library renovations, collaborative creation of a new research portal, investment in new staff positions, mentoring, and staff development. One of his key outcomes at Toledo was founding the libraries' co-curricular program in that field. As Director of the University of Toledo Press, he led a team in the development, production, marketing and sales of scholarly books and journals.
Case holds master's degrees in library science and comparative literature from Indiana University and a bachelor's degree in English from UCLA. He is a doctoral candidate in curriculum and instruction at the University of Toledo researching critical issues in experiential learning. Earlier in his career Case won a United States Information Agency Fellowship to the National Library of the Republic of Moldova, a former Soviet republic. He speaks Romanian, the official language of Moldova, and has taught German, Greek, Latin, and other classics courses.