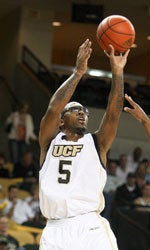 The most surprising undefeated team heading into the New Year continues to stun its own head coach.
Even after Central Florida (13-0) beat Florida in Orlando, new head coach Donnie Jones had no idea that four games later the Knights would knock off Miami in Sunrise, Fla. The Hurricanes had just swept through West Virginia and Ole Miss at home and were playing their best basketball of the season.
"It was in their backyard, they were playing extremely well and I was worried," Jones said as the Knights prepare to open Conference USA against Jones' former team (Marshall) on Wednesday in Orlando. UCF is now arguably the co-favorite with Memphis in C-USA.
Once the Knights knocked off Miami, Jones had great concern about going to UMass four days later. Second-leading scorer Marcus Jordan (16 points per game) had a sprained ankle, didn't play at the start but then wanted in the game. He played in the second half, hit six key free throws and the Knights won in Amherst by five.
"I had no idea we would be able to play on the road like that," Jones said. "These guys have found a way to buy in and really accept their roles. They believe we're going to win. It's been incredible. We're not the most talented individually, but we've got a lot of guys who come in and sacrifice with great energy and focus. That's the way it has been for the first 13 games."
Jordan has played with a sprained ankle. And Jones said center Tom Herzog (6.1 points, 4.5 rebounds per game in 11 of 13 games) has been playing with a fractured wrist.
"Marcus hasn't been able to practice the last 10 days with an ankle that has a softball on the side of it," Jones said of Michael Jordan's son. "He has a toughness about him. He is playing through this stuff."
Forward A.J. Tyler was also hurt, missing seven games in a row before Central Florida's tournament this past weekend, where the Knights beat Furman and Princeton. Furman had just blown out South Carolina prior to the trip.
Before the season, Jones had no clue what he had at UCF and with the Knights being picked in the lower third of Conference USA, there weren't high expectations within the conference, either.
The question now will be: Did Central Florida do enough to be in the at-large picture?
Well, the Knights won every game, including two neutral-site matchups against SEC preseason favorite Florida and a then-hot Miami. But they will have to do more in Conference USA — as in compete for the title. The league was helped by solid, two-loss records in the nonconference slate by Southern Miss, Memphis and UAB, a decent 11-3 start for UTEP and even surprising 9-3 performances out of Marshall and Tulane.
Central Florida will know early enough if it's a real C-USA contender with road games at Southern Miss (Jan. 15), Memphis (Jan. 26) and UTEP (Feb. 2) within the first month of conference play.
Being ranked at No. 21 has certainly drawn national interest. Having MJ's son on the team doesn't hurt, either, especially when he's one of the stars on the squad.
"What hurt us in the league in the past is that the RPI would go down in the league and usually it was just how Memphis did, determined Conference USA," Jones said. "One thing we've done is build up our RPI. We have a chance. We've got a chance at an at-large bid if we continue to win games."
Playing Southern Miss, Memphis and UAB twice (UTEP only once) gives UCF more opportunities. That's what the Knights want, rather than facing the lower-level teams more than the top-level teams.
"There was so much unknown here," Jones said. "We were picked low because of the talent-level perception. But the kids have gotten better. They've picked up the system and they all stayed here over the summer. We're reaping the benefits and now we've been successful and are somewhere we've never been — in the top 25."
But more important than the ranking or the undefeated start will be whether Central Florida can turn it into the school's first NCAA bid since entering Conference USA. They've done all they can do so far by winning each game, but the league isn't strong enough to carry this team through with more than a handful of losses and then only against top teams. So ultimately the Knights will still need a pretty gaudy record to be on the selection board in March.
Source: ESPN, UCF needs to carry momentum into C-USA, Andy Katz blog.
Katz is a senior college basketball writer for ESPN.com. He started working for ESPN.com in 1998, eventually leaving a 10-year newspaper career in 1999 to join ESPN.com full-time. In addition to covering breaking news for the site and college basketball on a daily basis through his Daily Word, Katz is a reporter for studio and remote coverage of college basketball and the NBA draft on ESPN's family of networks. Katz is a regular on ESPNU's "The Bracket" show throughout the college basketball season.