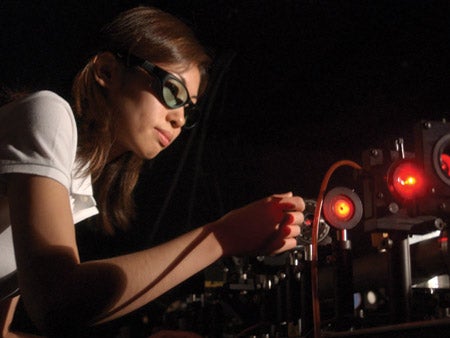 UCF has shown remarkable progress in a measure that matters: the strength of its patents. In two years UCF has risen from seventh to third in the annual ranking by the IEEE, the world's leading professional association for the advancement of technology.
The ranking, published in the March 2010 issue of IEEE Spectrum Online, calculates a "pipeline power" based on a variety of factors for U. S. patents issued between January and December 2009, including the number and types of citations a body of patents received by companies and other universities in their research.
UCF's total "power" ranking rose more than 200 points from 242 to 458 this year.
Based on U.S. patents, here is the worldwide top 20 in the IEEE universities/education/training category:
Texas
Cal
UCF
Iowa State
Washington
SUNY
Tufts
Wisconsin
Northwestern
Virginia Poly
Cal Tech
MIT
Stanford
Colorado
Harvard
UMass
Purdue
Oxford (UK)
Pohang (S. Korea)
Maryland
Founded in 1963, UCF is the third-largest university in the nation. UCF and its 12 colleges, located in Orlando, Florida, provide opportunities to over 53,500 students, offering 200 bachelor's and master's degrees and two-dozen doctoral programs. In 2007, UCF opened its on-campus football stadium and its basketball arena. In 2008, UCF became the first U.S. med school to offer scholarships to an entire class.