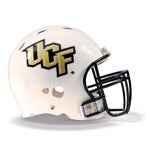 Senior linebacker Cory Hogue said most of the Knights are hoping for a short commute to their bowl game.
The UCF football team is still waiting to learn its bowl destination. The Knights finished the regular season with an 8-4 record, earning one of Conference USA's six bowl bids.
The conference office and bowl officials could announce UCF's postseason destination as early as today or the Knights could be forced to wait until after the C-USA championship game between Houston and East Carolina is played Saturday.
The most likely UCF destinations include the St. Petersburg Bowl played Dec. 19, the R+L Carriers New Orleans Bowl played Dec. 20 and the EagleBank Bowl played in Washington, D.C., Dec. 29.
"I think the overall consensus is St. Pete," Hogue said. "It's close, we'll be warm, I think it's a Big East team. We just want to play against the best team we can play against. The biggest bowl we can go to, we'll happily accept it."
In St. Petersburg, a Conference USA team faces a Big East team. In New Orleans, a Conference USA team faces a Sun Belt team. And in Washington, D.C., a Conference USA team would face either Army if it earns bowl eligibility on Dec. 12 or an at-large team since the Atlantic Coast Conference did not produce enough bowl eligible teams. It appears unlikely a Bowl Championship Series team would earn a spot in the EagleBank Bowl.
Junior defensive end Bruce Miller said coach George O'Leary asked the players where they wanted to go bowling.
"They all shouted out St. Pete bowl," Miller said. "I think they like Florida and the weather in December. I hope that's where we go."
Junior linebacker Derrick Hallman also said he favors staying close to home to face a Big East opponent.
O'Leary hinted during his UAB postgame press conference a St. Petersburg Bowl invitation would be best for his team.
"I don't think we're going to the Rose Bowl," O'Leary joked. "… I hope we stay fairly close for our fan base and get enough people there to follow the team."
UCF officials are doing their part to make sure the team has strong fan support. The school has set up a Web site — http://www.ucfbowl.com — where fans can pre-order tickets regardless of the Knights' postseason destination.
During O'Leary's weekly television show broadcast Sunday, the coach was more emphatic in his support of the St. Petersburg Bowl.
"I think if you look at the whole scheme of things, it's obvious from a standpoint of being in Florida, our fan base, our players, the timing of it," he said. "I hope St. Pete extends us an invitation. … I know the players are looking at that one too. Hopefully they can make a decision and it's the right decision for our football team, UCF and our fan base, which would be staying in the state of Florida."
O'Leary is giving the team a few days off from practice this week so that they can start preparing for final exams that will be conducted during the heart of bowl preparations Dec. 8-14.
He said he hopes the Knights don't have to wait until Saturday to learn their bowl destination because several of the games are among the first to be played, potentially giving UCF little time to prepare.
Source: Iliana Limón's Knights Notepad blog on UCF sports can be read at OrlandoSentinel.com/knightsnotepad and she can be reached at ilimon@orlandosentinel.com.
7:53 PM EST, November 29, 2009