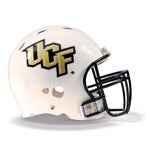 Central Florida has delivered back-to-back smackdowns of Conference USA East division opponents on national television, making the Knights look like serious contenders to win the league.
This time, they withstood their second weather delay of the season to beat Marshall 35-14 in their second straight Wednesday night game. The defense was dominant once again, holding Marshall (1-5, 0-2) to 37 yards on the ground. A.J. Bouye had an interception return for a touchdown, the third time UCF returned a pick for a score this season. That is a new school record.
On offense, Ronnie Weaver delivered a career performance with 150 yards on 30 carries, and the Knights held the ball for 40 minutes. It was about as dominating a game as you will see.
Now UCF is 4-2, off to its best start since opening 5-1 in 1998 — Daunte Culpepper's senior season. The Knights are 2-0 in conference play for the first time since 2o05 and just the second time in school history.
"I thought our guys really responded to the distractions and the weather and handled it all really well," UCF coach George O'Leary said. "I thought we did a lot of things right on both sides of the ball. That was a tough win, because Marshall plays really well up here."
There was some bad news among all of the good — quarterback Rob Calabrese hurt his left knee in the first quarter following a 2-yard touchdown run and did not return to the game. O'Leary seemed to suggest afterward that Calabrese had suffered a major knee injury, according to John Denton of Knights Insider: "I'm hoping that the doctor is wrong," O'Leary said. "It wasn't a contact thing. He went to hand the ball to the referee and as he turned there was a pop."
True freshman Jeffrey Godfrey played the rest of the game, though he got banged up some, too. Calabrese had been coming in for a set of plays during the game to run a few Wildcat formations. Though Godfrey has supplanted him as the starter, if Calabrese is out for an extended period, his loss could be huge simply because O'Leary has been hesitant to play a true freshman for the entire game and vowed not to do that.
Stanford transfer L.D. Crow would be the backup.
UCF gets Rice next, before an important stretch that could determine whether it wins the league: home to East Carolina on Oct. 30, at Houston on Nov. 5 and home to Southern Miss on Nov. 13.
Source: ESPN College Nation Blog, UCF off to best start since 1998, by Andrea Adelson, October, 14, 2010, Oct 1411:19 AM ET