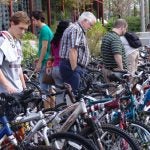 The UCF Police Department's yearly bicycle auction, once held on the patio in front of the Student Union every November, has gone virtual.
Students can now browse a selection of bicycles at propertyroom.com, a police auction website that addresses the problem of crowded law enforcement property rooms.
In past years, the UCF Police Department has removed deteriorated, abandoned or illegally parked bicycles from campus and moved them to an impound lot at the department.
"What we found was that the bikes that never got claimed would sit in our impound lot, and they would just continue to deteriorate," officer Jeannette Emert said.
To address the problem, the department found an auction website that would pick up the bicycles on a monthly basis.
Before the department sends the bicycles to the auction site, they are tagged with a warning label stating the owner has five days to remove the bicycle.
The department looks at serial numbers and checks to see if any have been reported stolen.
"One of our biggest problems in the past is getting people to use our online property registration, in which you can provide the make, model and serial number of your electronics, your bikes, pretty much anything that has a serial number," Emert said. "Because if we have that, that is the system we can check to see if it has been reported stolen. If we don't have that serial number, we won't be able to find your bike, period."
Emert said the money made through the bicycle auctions will not go to the police department, but will be put toward student scholarships and funding.
According to Emert, the department collects 100 bicycles per semester on average. In the past, the bicycles have been sold for $3 to $20 at auction.
The online bicycle auctions will continue indefinitely, as opposed to the singular auction that took place in November last year.
"Well, I like that it's going toward scholarships. I think it's fantastic," said Tyler Smith, a senior political science and history major. "I'd like to see them work a little bit more to identify whose bike it is and if they don't respond, then yeah, I think these bikes should be going somewhere instead of the dump. Why waste a perfectly good bike?"
Alex Jacobs, a senior interdisciplinary studies major, agrees.
"I think it's pretty cool if it's going toward scholarships, especially if they know that the bikes aren't being used, and if they're left there and abandoned, then why not?" Jacobs said. "It's better than the money going somewhere else or if they're left there and take up space."
Emert pointed out that there is an organization on campus that helps students get their bicycles fixed.
She hopes it will encourage more students to participate in the auction.
"If we have an organization on campus that can do that," she said, "I think that it will really make a positive effect on what happens."
Source: Central Florida Future, UCF PD bike auction shifts to online site, by Sarah Aslam, contributing writer. Published: Sunday, September 12, 2010, updated: Sunday, September 12, 2010 17:09