A new study led by a team of UCF researchers is collecting evidence that will contribute to expanding treatment and access to medication for people in the justice system who struggle with opioid-use disorder.
In problem-solving courts, an interdisciplinary team led by a judge works collaboratively to manage cases, aiming to reduce criminal offenses by using therapeutic approaches to address addiction and other underlying issues.
The goal is to rehabilitate those with substance use disorder who have been accused or convicted of drug-related crimes or have lost custody of children due to drug use. Courts will mandate treatment for substance use disorder, and many court participants have opioid use disorder.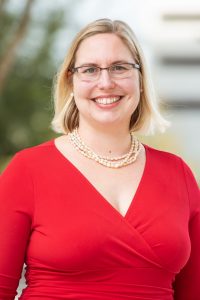 "Medications for opioid-use disorder are the most effective treatment for people with opioid-use disorder, and they reduce the mortality rate by about 50%," says Barbara Andraka-Christou, an assistant professor of global health management and informatics and the project's principal investigator. "However, many people in the court system don't have access to the medication. Some previous research has found that only one in 20 people with opioid-use disorder involved in the justice system actually are receiving the medications."
The team's research is being funded by a two-year grant from the Justice Community Opioid Innovation Network, which is part of the National Institutes of Health's Helping to End Addiction Long-term Initiative. One of the goals of this initiative is to test strategies to expand effective treatment and care for people with opioid-use disorder in partnership with justice systems and community-based treatment providers.
Results from this study are exactly what their community partner, the Office of the State Courts Administrator, hopes to benefit from. The agency oversees all courts statewide, and its goal is to use findings from this study to develop trainings and guidelines for all problem-solving courts.
The study has two goals. The first is documenting the courts' case-by-case decision-making processes regarding medications for opioid-use disorder. That includes studying the decision-making roles of court team members and whether they make the decisions on their own or with the input of professionals like providers of medications for opioid-use disorder. If providers are involved, the communication process between them and the court — as well as the extent to which the court team incorporates the provider's knowledge and feedback into their final decision — is also unclear.
The second aims to identify the factors involved in court team decisions about medications for opioid use disorder. These could include an offender's demographic characteristics, parental status and co-occurring health conditions, as well as a court team's belief regarding certain medications.
Some courts have restrictive policies regarding medications for opioid use disorder, Andraka-Christou says. Those include only permitting the medications for a short time, only permitting certain types of medications, or requiring termination of the treatment prior to finishing the court sentence. It's also not always clear what factors are used in the decision-making process.
"Another thing that makes this project interesting is that the decision-makers here are judges and court staff, and usually these are not healthcare professionals or counselors," she says. "What you really have here are a group of people who are not healthcare professionals and are making some type of access decision about medications. I'm just very intellectually curious, 'How does one go about making this decision if you don't have that kind of healthcare training?' "
A 2021 study conducted by Andraka-Christou and her team involving a sample of Florida problem-solving courts found that 90% of judges reported their court team makes case-by-case decisions about whether court participants can use such medications.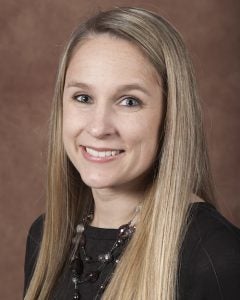 "The treatment individuals need is critical to helping them stay out of the system," says Jill Viglione, an assistant professor of criminal justice and co-principal investigator of the study. "Anything we can uncover that can illuminate some of these challenges is really critical to trying to expand access to treatment to this population that really needs it."
The two-year, $110,000 study will begin this spring with focus groups of a sample of the state's problem-solving courts that make their decisions regarding treatment on a case-by-case basis. Court team members will be asked to describe their decision-making process and identify associated factors.
Then, the team will use the factors identified to create a statewide online survey composed of hypothetical cases and situations for problem-solving court team members. Court team members will receive randomly assigned vignettes and make their hypothetical decisions on a case-by-case basis. Viglione says the goal is to both identify and isolate the factors that lead to their decisions.
"Hopefully, once we identify these factors, they will be potential levers that policymakers in the state of Florida, activists and scholars can try to address in order to increase the use of these medications in the courts," Andraka-Christou says.
Other UCF contributors include global health management and informatics Associate Professor Danielle Atkins, educational research Associate Lecturer M.H. Clark, and doctoral candidates Rachel Totaram and Fatema Ahmed. They are also assisted by Brandon del Pozo from Brown University.
Andraka-Christou is an assistant professor in the School of Global Health Management and Informatics with a joint secondary appointment in the College of Medicine. She received her doctorate in law and social science, as well as her juris doctorate, from Indiana University Bloomington. Andraka-Christou's research focuses on health services and policies for expanding evidence-based treatment of substance-use disorder. She also leads the UCF Court Health Services and Policies Workgroup and a pre-academia mentoring pod for female and minoritized doctoral students in public affairs.