University of Central Florida planetary science continues its ascent as a leader in space research with another high-profile flight, this time aboard Virgin Orbit's LauncherOne, which was blasted into orbit Sunday from the company's 747 carrier aircraft, Cosmic Girl.
The launch took place at 10:50 a.m. at the Mojave Air and Space Port in California.
The research sent into space is a small satellite called Q-PACE, or CubeSat Particle Aggregation and Collision Experiment. It was launched along with eight other CubeSat missions, all selected by NASA.
This is LauncherOne's second flight and the first to carry its customers' satellites.
Q-PACE's mission is to capture video of small particles colliding in microgravity, which will help scientists understand the earliest stages of planet formation.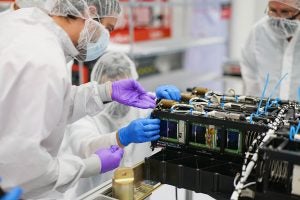 "We now have experience in building small satellites and getting them into orbit," says Josh Colwell, a UCF Physics professor and the project's principal investigator. "It's pretty exciting, and now we have to get in touch with the satellite and get the experiments running."
Q-PACE is a rectangular satellite about a foot long with a width and height of about four inches.
A test chamber inside contains particles of various sizes, shapes and compositions, including a collection of small pieces of meteorites known as chondrules. When in orbit, the test chamber will be shaken at different speeds and directions to cause the particles to collide.
Different particles will be introduced over several phases, starting with large spherical particles and ending with aggregates of small dust particles and chondrules.
These collisions will be recorded with a high-speed camera, and the recordings will be transmitted to ground stations at UCF and the University of Arkansas for analysis.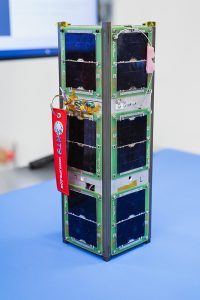 Q-PACE will be powered by the sun via its solar panels. The mission will last up to three years, after which it will fall into Earth's atmosphere and burn up in the process.
The microgravity of low-Earth orbit will allow the particles to collide at slow speeds and will allow researchers to study how the particles bounce, stick and begin to aggregate.
This type of aggregation is a first step toward planet formation and is also seen taking place in the rings of Saturn and other planets.
Project co-investigators are Julie Brisset, an associate scientist with the Florida Space Institute; Adrienne Dove, an assistant professor in UCF's Department of Physics; Doug Maukonen, a systems engineer with the Florida Space Institute; Larry Roe, director of the Arkansas Center for Space and Planetary Sciences and an associate professor of mechanical engineering at the University of Arkansas; and Jürgen Blum, a professor at the Technical University of Braunschweig.
The Q-PACE mission is part of NASA's Educational Launch of Nanosatellites program. The mission was selected by NASA in 2015 for funding through its Small Innovative Missions for Planetary Exploration program.
Nearly all of the CubeSat missions onboard LauncherOne on Sunday were designed, built and tested by universities across the U.S., including Brigham Young University, the University of Michigan and the University of Louisiana at Lafayette.
Sunday's flight continues a series of high-profile flights for UCF space research.
Colwell is a Pegasus Professor of physics and assistant director of the Florida Space Institute. He received his doctorate in astrophysical, planetary and atmospheric sciences from the University of Colorado at Boulder and joined UCF's Department of Physics, part of UCF's College of Sciences, in 2006.
Brisset earned her doctoral degree in physics from the Technical University of Braunschweig and joined UCF in 2016.
Dove received her doctorate in astrophysical and planetary science from the University of Colorado at Boulder and joined UCF in 2012.