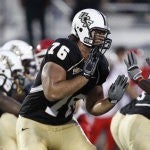 League champion UCF and West Division champion SMU led the All-Conference USA selections Tuesday with five first-team selections each. They also had the most total selections with eight a piece.
The Knights had three first-team selections from its No. 1 defense: DE Bruce Miller (55 tackles, 11.5 tackles for loss, seven sacks) and defensive backs Kemal Ishmael (team-high 82 tackles, two interceptions, two forced fumbles) and Josh Robinson (55 tackles, two interceptions, team-best 14 passes defended). Offensive lineman Jah Reid and kickoff returner Quincy McDuffie (league-high 32.7 avg. and two returns for touchdowns) also earned first-team honors.
SMU has three first-teamers on offense: RB Zach Line, who led the league in rushing with 1,391 yards and 10 touchdowns; OL Kelvin Beachum, who helped pave the way for Line to gain those yards; and WR Aldrick Robinson (league-high 1,225 yards and a league-best-tying 13 receiving touchdowns).
C-USA will name its individual award winners on Wednesday.
Here are the complete first and second teams, and honorable mentions (for UCF):
First-team offense
OL- Jah Reid, Sr., UCF
First-team defense
DL- Bruce Miller, Sr., UCF
DB-Kemal Ishmael, So., UCF
DB-Josh Robinson, So., UCF
First-team special teams
KR-Quincy McDuffie, So., UCF
Second-team offense
RB- Ronnie Weaver, Jr., UCF
Second-team defense
DL- Darius Nall, Jr., UCF
Second-team Special Teams
LS- Charley Hughlett, Jr., UCF
Honorable mention offense
OL- Nick Pieschel, Jr., UCF
TE- Adam Nissley, Jr., UCF
WR- Brian Watters, Sr., UCF
Honorable mention defense
DL- David Williams, Sr., UCF
LB- Derrick Hallman, Sr., UCF
Honorable mention special teams
PR- Josh Robinson, So., UCF
Source: ESPN.com, by By Andrea Adelson. To see a complete list of first and second teams, and honorable mentions visit the original and full story at UCF, SMU headline All-C-USA teams