Since the UCF Veterans Legacy Program (VLP) began in 2017, Associate Professor of History Amelia Lyons has witnessed the program's meaningful impact on students.
Established through the National Cemetery Administration (NCA), between 2017 and 2019, VLP harnessed UCF student research efforts to create biographies of veterans buried in national cemeteries in Florida. In piecing together veterans' stories, students gained historical insight while honoring forgotten legacies.
"I brought someone back to life who had been forgotten in life and in death," Lyons recalls a student who worked on the program saying.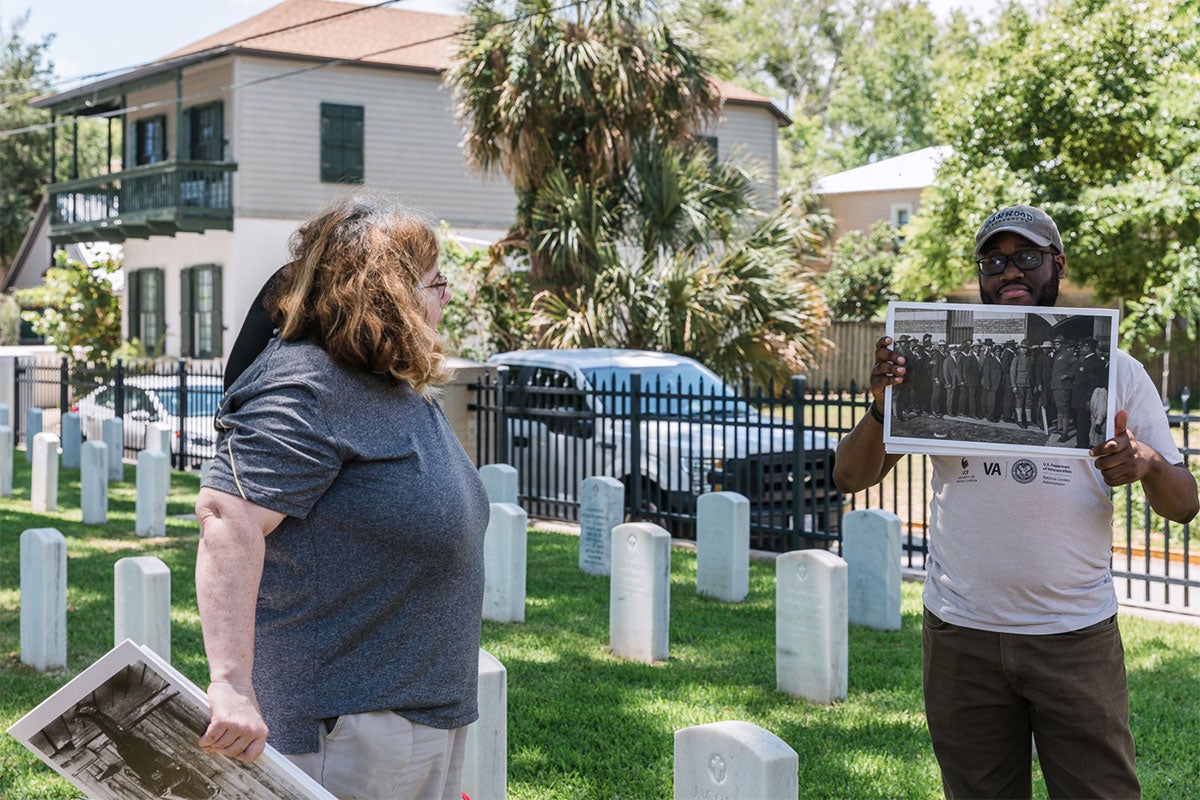 Now, thanks to a new grant from the Department of Veterans Affairs, that impact will extend beyond the university. Starting in 2023, UCF students and faculty will partner with teachers at Florida K-12 schools to create VLP classroom projects. These projects will connect younger students with veterans' stories through their local NCA cemetery.
"We are so pleased to be continuing our partnership with the NCA," Lyons said. "We are expanding our work significantly, working to bring our successful pedagogical model for doing veterans history to K-12 and university faculty around the state of Florida."
In June 2023, about two dozen Florida teachers will be invited to the UCF Veterans Legacy Program Institute, a 10-day workshop held at the headquarters for the Florida National Guard, located in the historic St. Francis Barracks and the adjacent St. Augustine National Cemetery. Participants will build veteran biography assignments and design a tour of their local NCA cemetery using the St. Augustine National Cemetery as inspiration.
"We hope that holding this institute in St. Augustine, the state's first settlement, will aid teachers in creating engaging lesson plans for students learning Florida history," says Barbara Gannon, associate professor of history.
Alison Simpson, command historian for the Florida National Guard, is partnering with VLP to provide the setting for the Institute. She will also share expertise about St. Augustine's history for participants planning class field trips to the area.
"I am really looking forward to this project, to collaborating with the team from UCF, both faculty and students, and sharing with educators from around the state some history of the Florida National Guard as it relates to their communities," Simpson says.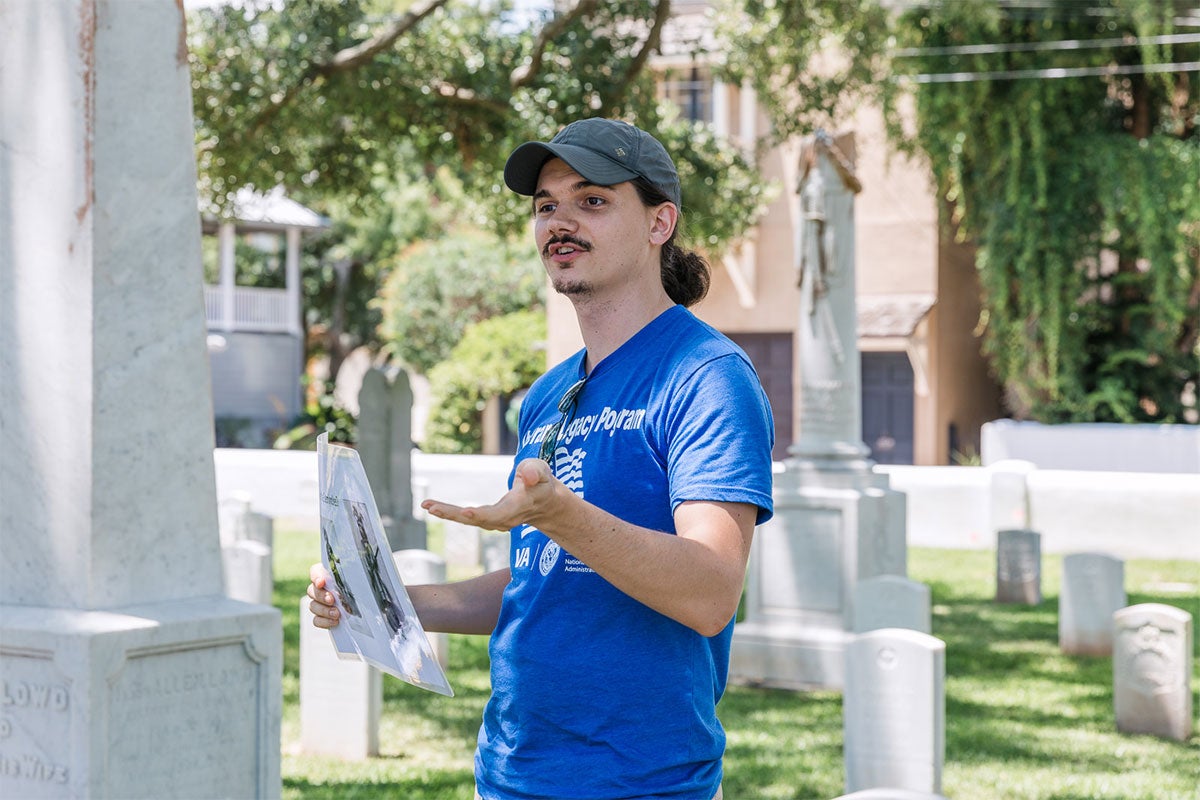 Each teacher's local cemetery tour will be unique and versatile, highlighting individual veterans whose histories fit with their grade level's larger curriculum. The final learning materials created at the Institute will be posted on the UCF VLP website, maintained by UCF's Center for Humanities and Digital Research (CHDR).
"As the digital humanities research hub for the College of Arts and Humanities, our center developed and maintains the VLP website," said Amy Giroux, director of CHDR. "The current K-12 curricular materials will be expanded by our new institute."
At the institute, UCF alumni who previously worked on VLP will share their expertise through panels and one-on-one discussions. Meanwhile, current students will collaborate with teachers to prepare curriculum and conduct research on veterans buried in St. Augustine.
According to Lyons, this exemplifies how an education in the humanities prepares students for future careers.
"VLP is an excellent teaching tool. Students learn real world skills, doing research and writing about veterans who are a part of their communities, their local history," Lyons says. "Our UCF students who will be part of the 2023 UCF VLP Institute will gain professional skills, network with educators in our state and be part of a federal grant program. We are a great example of how connecting classroom education and real-world skills prepares our students for jobs and careers."
According to Lyons, this program is especially impactful because it allows veterans who served our nation in life to continue their service by educating new generations. Meanwhile, it helps students understand the cultural context of the time a veteran lived.
"Veterans represent the diversity of our nation — men and women, of all races, ethnicities, religions, and social and economic groups," Gannon says. "VLP and this Institute allow us to tell America's story through the eyes of the veterans whose sacrifices made that story possible."