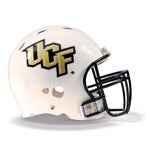 From the first snap of the game, UCF was in control and it never let up in a 49-7 win at Rice Saturday afternoon in Houston, Texas. The Knights (4-3, 2-2 Conference USA) won their 50th road game in program history as they scored their most points on the road since collecting 64 at Louisiana Tech on Sept. 5, 1998.Following the opening kickoff, Brett Hodges found A.J. Guyton on a 76-yard touchdown reception to give the Black and Gold a quick 7-0 lead against the Owls (0-8, 0-4). It was the longest TD catch since Doug Gabriel's 80-yard scoring strike at Arizona State Sept. 7, 2002.
Hodges went on to finish his outing 8-for-13 with 145 yards. Rob Calabrese also saw time under center, going 3-for-4 with 71 yards and two touchdowns. Guyton led the receivers with four receptions for 113 yards, and he also threw for a TD when he found Kamar Aiken on a 36-yarder in the second quarter.
The most lopsided road win in UCF's 31-year football history, the Knights built on its 7-0 advantage but this time put together a 14-play drive capped off by a one-yard run from Hodges to make it 14-0. Only 1:27 later and UCF completed its first quarter scoring on a 27-yard scamper from Ronnie Weaver.
Guyton's touchdown pass to Aiken late in the second quarter provided the Knights with their 28-0 halftime lead, and it would keep up the offensive pressure in the third. Following Josh Robinson's 24-yard interception return, Calabrese entered and hooked up with Jamar Newsome on a 52-yard touchdown pass for the 42-0 cushion.
Rice may have ruined the shutout bid with 11:03 left in the fourth by way of a one-yard run from Charles Ross, but Calabrese came right back and connected with Ricky Kay on a 13-yard TD pass for the final 49-7 margin.
On the defensive side of the ball, UCF notched five sacks and forced five fumbles, recovering three of them.
In all, UCF outgained Rice 465 to 282 in total offensive yards.
UCF now gets ready for a nationally-televised affair when it hosts Marshall on ESPN Sunday, Nov. 1, at 8:15 p.m. Tickets are still available and can be purchased by calling 407-823-1000.