"I've learned that people will forget what you said, people will forget what you did, but people will never forget how you made them feel." –Maya Angelou
A photo with this quote is one of the first things UCFPD's new deputy chief hung in her office last week. Yes, her office.
Robin Griffin-Kitzerow joined UCF Police as deputy chief in March as the highest-ranking woman in the agency's history.
"Over the course of my career, I have witnessed the positive strides women have made to open doors of opportunity in various roles, to include leadership," says Griffin-Kitzerow. "I am grateful to those who have sacrificed before me and intend to work tirelessly to pave the way for those who come up behind me. My every desire is to make a positive difference in the lives of others while serving here at UCFPD."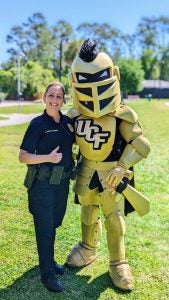 Prior to UCF, she spent nearly three years as deputy chief at Florida Atlantic University Police Department and previously worked with Palm Beach County Schools Police Department.
Griffin-Kitzerow is particularly passionate about school safety and threat management. She helped build and implement a comprehensive behavioral and threat management program in K-12 schools after the attack at Marjory Stoneman Douglas High School in 2018.
As she settles into her role at UCF, Griffin-Kitzerow says she plans to build upon what Chief Carl Metzger '03MS has already started.
"Under Chief Metzger's leadership, UCFPD has robust processes, training, policy and systems in place to ensure that the agency moves ahead seamlessly," says Griffin-Kitzerow. "The agency really does run like a finely oiled machine."
Her goals at UCF include enhancing employee recruitment, development and retention efforts; continued improvement to the threat management program; and legacy leadership planning.
One look at the wall of degrees in her office will tell you that education is important to her, and her pursuit of knowledge is ongoing.
Griffin-Kitzerow is currently working on her dissertation for her Ph.D. in forensic psychology, which she hopes to complete within the next few years. She's completed two master's degrees, one in psychology and another in public administration. She earned bachelor's and associate's degrees in business administration and criminal justice, respectively.
She hopes to add a UCF degree to her wall, too, to cement her connection to Knight Nation — after the Ph.D., of course.
"UCF is an entire culture of amazing individuals who truly care about education, equity, professionalism, compassionate accountability and leaving the planet a little bit better than we all found it," she says. "I am so proud of our university, our police department, our chief, our staff and our students. And I am so very proud to be a new member of the Knight family."