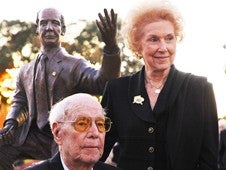 Charles Millican, the founding president of the University of Central Florida, and his wife, Frances, were being treated at a hospital Sunday after falling at home.
Frances Millican, 82, was listed in critical condition at Orlando Regional Medical Center. Her husband, 93, was listed in stable condition Sunday night, the hospital reported.
University spokesman Grant Heston said the couple fell over the weekend at their Orlando home. A family friend said Frances Millican was helping her husband get out of bed when the two fell and she struck her head.
The two have been married 64 years.
"The thoughts and prayers of the entire UCF community are with the Millicans and their family," Heston said.
Charles Millican was named by the Florida Legislature in 1965 to plan and launch the new campus, known then as Florida Technological University.
"I had no faculty, no buildings, no equipment and a budget for the next seven months of $75,000," Millican said in 2003.
Classes began in the fall of 1968 with nearly 1,500 students, 90 faculty members and six buildings.
Frances Millican organized public events for the new university and launched projects to help it grow. She founded the campus Women's Club, which raises money for scholarships.
She was an early advocate for creation of Valencia Community College, which has a scholarship named for her.
Charles Millican served as president for 13 years, retiring in 1978. UCF's administration building is named for him, and last month, the university unveiled a statue of him.
He initially predicted the school would have 15,000 students. Today, UCF's enrollment is more than 53,000, making it the third-largest university in the country. Its operating budget is $1.17 billion.
Source: Orlando Sentinel, by Rene Stutzman, December 28, 2009