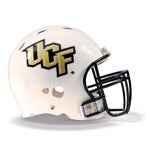 USA Today, the nation's largest daily publication, ran a story about the unique ceremony where UCF, Orange County Mayor Richard Crotty and Florida Citrus Sports will recognize the 1958 University at Buffalo team that refused its invitation to the Tangerine Bowl on moral grounds over racial segregation.
The epic tale of the bowl-bound 1958 Buffalo team was one of the most prominent storylines during last year's college football postseason, when the present-day Mid-American Conference champion Bulls received their first bowl bid since that 1958 season, on their milestone 50th anniversary. Approximately 34 members of the team are expected in Orlando this weekend for Saturday's UCF v. Buffalo game.
The 1958 Buffalo team, whose roster contained two African-American players, Willie Evans and the late Mike Wilson, was invited to play in the 1958 Tangerine Bowl, organized by the Elks Lodge. The use of the stadium was controlled by the now defunct Orlando High School Athletics Association, who maintained a policy banning interracial events. In a show of solidarity for Evans and Wilson, the entire Buffalo squad voted to not play in the bowl game.
To read the USA Today story visit the Web site.